This content was produced in partnership with ESPN+.
The UFC took a hiatus last weekend after hosting two big pay-per-view events in March, but the world's leading MMA league is back in action for April with UFC 287: Pereira vs. Adesanya 2 getting the month off to a great start. As a numbered event, you can be sure to see the best talent and the most high-stakes matchups on Saturday's fight card, so you've got plenty of reasons to watch UFC 287. If you still need some convincing, though, then read on to see the top three reasons to grab your PPV ticket so you can tune in to UFC 287 this weekend.
Pereira vs. Adesanya 2 (But Really 4)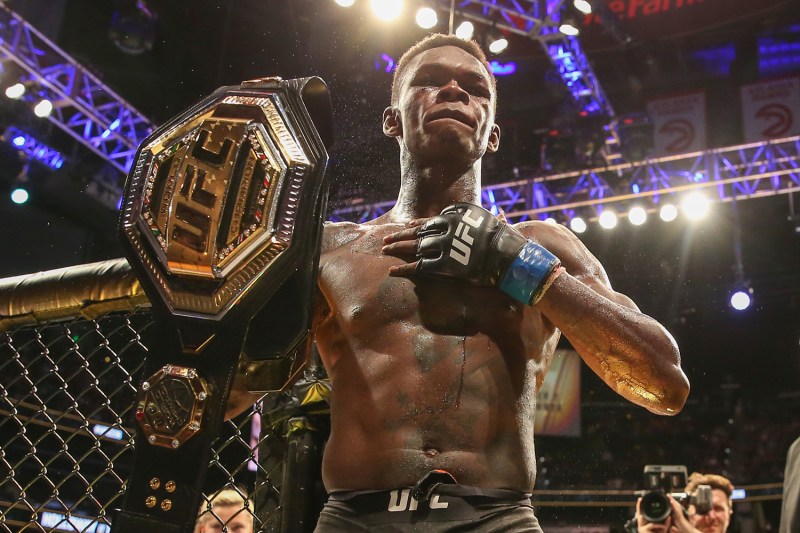 It goes without saying that the headlining fight between Alex "Poatan" Pereira and Israel "The Last Stylebender" Adesanya is the big draw of this event. UFC 287 is billed as Pereira vs. Adesanya 2, and the main event is a rematch for the UFC Middleweight Championship. The pair met last November at UFC 281, where Pereira unseated the champion Adesanya via fifth-round knockout to claim the title. This marked The Last Stylebender's first defeat at middleweight and only his second UFC loss overall — one that must have stung doubly since Adesanya lost the belt that he had successfully defended five times before.
However, UFC 287 is the second meeting between Pereira and Adesanya during their time in the UFC. It's the fourth actual meeting between the two fighters, who have a history between them that stretches back to April 2016. Both men came to MMA from kickboxing and their strike-heavy stand-up styles reflect this. Adesanya and Pereira first faced off at Glory of Heroes 1 in April 2016, where the Brazilian won by unanimous decision. Their rematch at Glory of Heroes 7 the following March resulted in Adesanya losing again, this time via third-round knockout.
That means that Pereira has bested Adesanya not once, but three times, which is no small feat given The Last Stylebender's impressive run in professional MMA. Adesanya will be highly motivated to reclaim his belt, and perhaps more importantly, to finally beat the one fighter who has consistently given him trouble throughout his career in combat sports.
More UFC
Can Masvidal Pull off a Much-Needed Comeback?
Although the middleweight championship rematch is the main attraction, the co-headliner is another good reason to watch UFC 287. Before Adesanya and Pereira step into the Octagon, two of the UFC's biggest names in the welterweight division, Jorge Masvidal and Gilbert Burns, will do their ring-walks. Masvidal and Burns are no doubt excellent fighters, but the two combatants have had some trouble recently. Burns, for his part, has won three of his last five matchups and has racked up a professional MMA record of 21-5. He lost to Khazmat Chimaev at UFC 273 via unanimous decision and also stumbled in his first title challenge against Kamaru Usman at UFC 258, where he lost via knockout in the third round. However, Burns did emerge victorious over Neil Magny at his most recent bout at UFC 283 in January.
Masvidal has been having a tougher time. He's lost his last three fights, including two back-to-back title challenges against former champ Kamaru Usman. Most recently, Masvidal faced Colby Covington at UFC 272 last March, where he lost via unanimous decision. That string of defeats knocked Masvidal down to the 11th spot on the welterweight roster, and at age 38, it seems unlikely that he'll have time to recover for another shot at a UFC title (his symbolic "BMF" Championship belt notwithstanding). The UFC "BMF" Champion also got into hot water with the law when he apparently assaulted Covington several weeks after their meeting at UFC 272. Masvidal is still facing assault charges for his role in that incident. Even if he manages to pull off a much-needed comeback at UFC 287, the embattled fighter has other challenges awaiting him outside the Octagon.
The UFC Returns to Miami
Admittedly, the third reason to watch UFC 287 isn't quite as compelling as the first two, but it's still noteworthy: The UFC's big April pay-per-view event is being hosted at the Miami-Dade Arena in Miami, Florida. It's a major change of venue as UFC PPV events in the U.S. are typically hosted in Las Vegas. This is only the second time that the Ultimate Fighting Championship has visited Miami, and the first visit since UFC 42: Sudden Impact in 2003. Florida UFC fans are no doubt pumped to see the world's biggest MMA promotion return to the state after twenty years, and long-time viewers can't help but reminisce and reflect on how the sport has grown and evolved over the past two decades.
This is a pay-per-view event, though, so you'll need to sign up for ESPN+ and grab your PPV ticket if you're planning to watch UFC 287 online on Saturday. The main card (which is the pay-per-view portion of the show) begins at 10 p.m. ET/7 p.m. PT this Saturday, April 8.
Editors' Recommendations