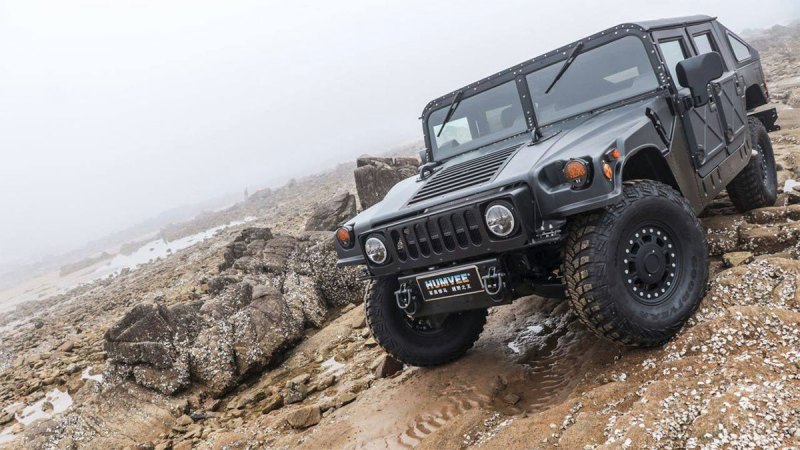 The Hummer brand started with a bang, but ended with a whimper. When GM shut the doors on Hummer for good in 2010, fans of the rugged automaker were surely upset, but not because a good thing had come to an end. In reality, Hummer began its slide from grace after the the civilian-spec H1 stopped being sold in 2006. With only the H2 or dreadful H3 available, and with sky-high gas prices, Hummer had little hope for survival at the time.
Despite its end-of-life mistakes, Americans still remember Hummer as the maker of the ultimate macho-mobile: the Humvee. It's this passion for the original that inspired Humvee Exports, a five-man operation in Michigan, to source H1 parts and export pre-made units globally. AM General, the original H1 manufacturer, has been selling C-Series kits to Humvee Exports since 2013. The company then took each $60K and recreated the Humvee.
Now that the Chinese market is interested, Humvee Exports has turned to their Detroit neighbors for help. According to Car and Driver, VLF Automotive, the company behind power-packed versions of the Karma, Mustang, and Viper, has teamed up with Humvee Exports to assemble C-Series models with GM engines and ship the products to China. VLF's leadership team, which includes ex-GM executive Bob Lutz, automotive designer Henrik Fisker, and Boeing executive Gilbert Villarreal, has taken on some eye-opening projects in the past, but this may be their most lucrative yet.
The C-Series kit, which was shown at this year's Shanghai Auto Show, looks almost identical to the original H1 from 1990, but the front end is styled after the current military-grade version. VLF Auto will offer the Humvee in three trims — Bravo, Charlie, or Delta — with different luxury and convenience features. Engine options include a 6.5-liter diesel V8 engine in three stages of tune: 190 horsepower and 385 lb-ft of torque, 205hp and 440 lb-ft, or 250hp and 440 lb-ft. If you'd prefer a gas-powered motor, you can opt for an LS3 6.2-liter V8 with 430hp and 424 lb-ft of torque.
This all sounds great, but there's one bit of bad news: if you live in the U.S., Humvee Exports and VLF won't sell you a Humvee. Due to the restrictions of the new Low Volume Motor Vehicle Manufacturers Act, the Humvee cannot be certified for sale in the U.S.