Most red-blooded men love a good adrenaline rush. Skydiving, wing walking, swimming with crocodiles, and fast cars all undoubtedly fill that need. If the latter is more your speed — if you like to drive very expensive cars very fast — Exotics Racing offers a world-first racing experience unlike any other.
From Miami to California, there's no shortage of places to take a supercar out for a spin. However, the aptly named Supercar Drifting Ride-Along Experience dials the "ordinary" supercar driving experience up to 11. At Exotics Racing's legit Las Vegas race track, passengers strap into a track-ready Dodge Charger SRT Hellcat jacked up like a police cruiser from hell. The 707-horsepower, V8-powered beast is capable of pulling 3.4-second 0-60 runs and a top speed north of 200 miles per hour. By the numbers, it's an obscenely fast ride with the motto "To protect and to swerve."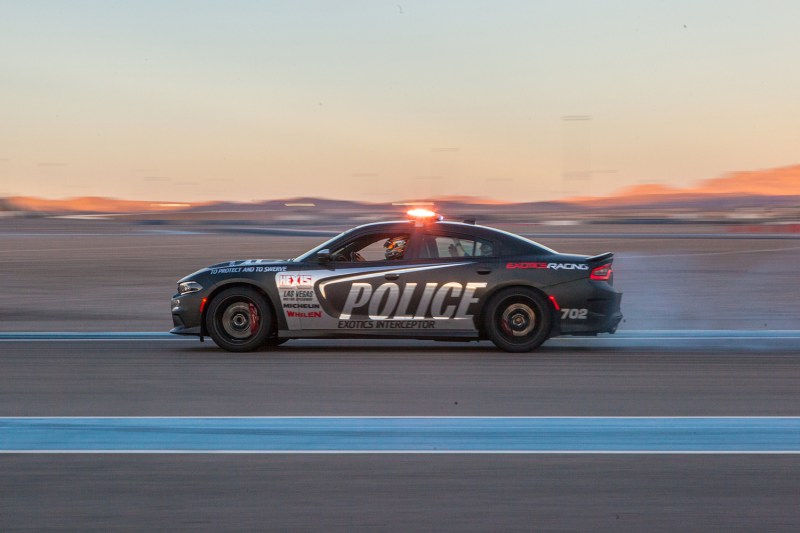 As the name implies, however, the experience isn't just about speed. Behind the wheel is Exotics Racing's resident professional Rudy Ibanez — a stunt driver whose credits include The Fast and The Furious. With full-on sirens blaring, Ibanez pilots the Hellcat around the desert track "chasing" other supercars and drifting into corners. It's one thing to drive a quarter-million-dollar Ferrari 488, a Lamborghini Huracan, or a Porsche 991 GT3 on a professional racetrack. It's another matter entirely to chase those same supercars in your own real-life version of Grand Theft Auto. Know that helmets and safety harnesses are included, but adult diapers are not.
Pricing for the Supercar Drifting Ride-Along Experience starts at $99 per passenger for two laps. Because the Hellcat is a sedan with a full-sized backseat, a total of three passengers can ride-along. If you'd rather the thrill of being chased like a criminal a la GTA, Exotics Racing offers dual-lap supercar ride-alongs also starting at $99 per person.
If one-of-a-kind racing experiences are your thing, head to Indianapolis Motor Speedway. The legendary track is home to the Indy Racing Experience where even enthusiasts with no hardcore driving skills can strap into a legit IndyCar racecar to circle the track at up to 130 miles per hour.
Editors' Recommendations