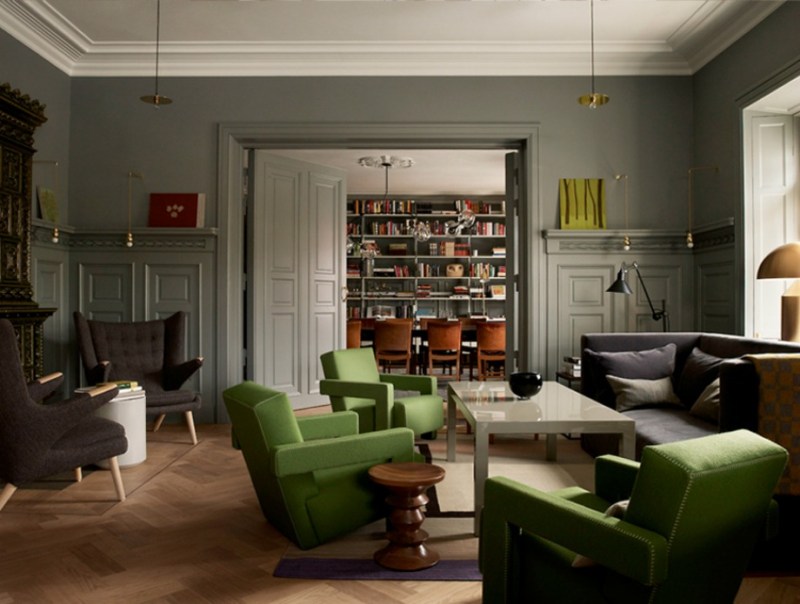 Although most Scandi cities are equally well endowed in all things design related, Stockholm ultimately takes the cake amongst its Nordic counterparts when it comes to urban charm – and since May 2012 nowhere is this charm better encapsulated than in one particular hotel; Ett Hem. The name – which means "a home" in Swedish – does sound a bit like someone coughing up phlegm, but rest assured this twelve room gem is no disappointment. It occupies a renovated 1910 art nouveau mansion nestled in the quiet residential Lärkstaden neighborhood, but still very close to Gamla Stan and the rest of Stockholm's historic centre.
Ett Hem's Ilse Crawford designed interiors are a wet dream of Scandinavian style – sleek and sterile yet incredibly comforting and unpretentious, with a fine focus on detail. Each room is decked out in Swedish oak, Gotland stone and sheepskins, most have an open fireplace or antique tiled stove and brass minibars, and each room is completely unique. Ground floor amenities include a gym and sauna, a glass-house-cum-casual-breakfast-room, a library with books that aren't just for show and a twenty four hour kitchen that serves meals wherever you chose. Fresh fish, herbs and vegetables, homemade cakes or cookies – everything is absolutely natural, organic and locally sourced – but what really sets the domestic scene is that you can just wander into the kitchen and help yourself from the fridge should you get peckish any time throughout the day.
Although Sweden probably has the highest concentration of H&M and Ikea stores in the world, as both brands are native to the country, just mentioning their names whilst on local soil should be punishable by law – there is much, much better on offer. Apparel aficionados can make a bee line for one of the Acne stores for the best cutting edge fashions, but Nitty Gritty also has an amazing roundup of international menswear brands. Furniture fanatics in search of a unique purchase or simply some inspiration can head to Modernity and Jacksons for vintage icons or Asplund and Svenskt Tenn to find sturdy modern pieces. Try Ording & Reda for stationery and Sachajuan for haircare, whereas the Byredo boutique on Mäster Samuelsgatan is a temple of serious scents; from unusual colognes to candles. Everything on offer in the capital is so bang on trend, so unaffectedly cool and so damn covetable it just makes you want to smack someone. But please don't.
Editors' Recommendations