It's difficult to imagine a more iconic, more bucket list-worthy adventure than setting sail on the high seas aboard a classic wooden schooner. Canada's Outer Shores Expeditions is the company for just that purpose, and their just-released 2018 sailing schedule already has us reworking our travel plans for next year.
For nature and outdoor-loving travelers, few countries offer more per square mile than Canada. The country's Pacific Northwest, from the U.S. border on up to Alaska, is one of the most rugged and scenic areas in the world. Outer Shores focuses entirely around the coastal waters of British Columbia, trekking to some of its most well-known destinations. Returning for 2018 are popular destinations like Northern Vancouver Island (famous for whale watching), the Southern Gulf Islands, and Haida Gwaii. The latter archipelago consists of pristine, remote islands and a temperate rain forest that's home to a wide variety of wildlife. From late summer through October, the company will also return to Great Bear Rainforest. Here, passengers can observe and learn about the unique ecosystem and biodiversity of the largest coastal temperate rain forest in the world. The last journey of the season will also feature an exclusive photography tour of the destination, with the hope of spotting the elusive white spirit bear.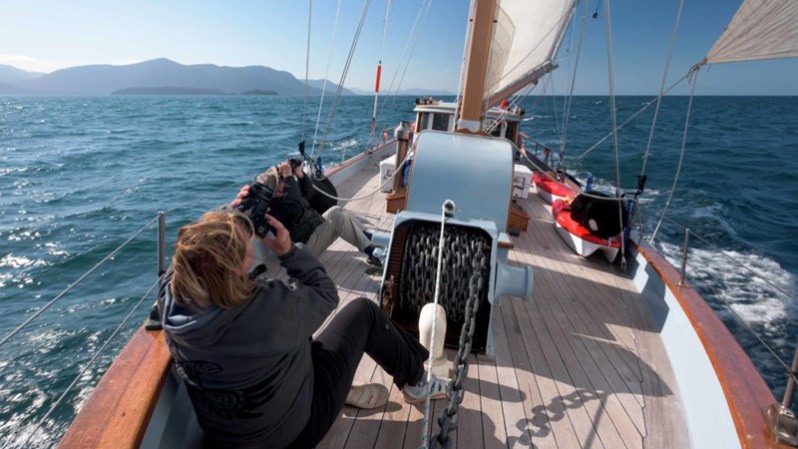 New for 2018, the company is debuting a first-ever Bears of Bute sailing. This one-of-a-kind journey starts in Campbell River, British Columbia and ferries passengers to Bute Inlet, just west of Whistler. The area is a stunning waterway replete with massive stands of western red cedar and old growth Douglas fir trees. It's also Canada's premier destination for grizzly and black bear viewing.
Outer Shore Expeditions is among Canada's most popular bespoke, small ship cruise lines. Their single schooner, Passing Cloud, is a beautiful, 70-foot (21-meter) wooden sailing vessel designed by famed racing ship architect, William James Roué. Sturdy enough to sail around the world, she features a classic design with thoroughly modern sailing technology — including GPS, radar, digital chart plotter, and satellite telephone. Accommodations are intimate, but not cramped. Passengers spend the night in one of three private staterooms, plus there are a spacious main salon and plenty of deck space for relaxing topside. The entire design recalls sailing days of yore with leather seating, cedar deck beams, an oil-burning heater, and brass accents throughout.
Rates for Outer Shores Expeditions' 2018 itineraries start at $2,695 CAD (approximately $2,100 USD) for a 5-day/4-night trip. Full-fledged, 9-day/8-night expeditions are also bookable now for $6,195 CAD (almost $4,900 USD).