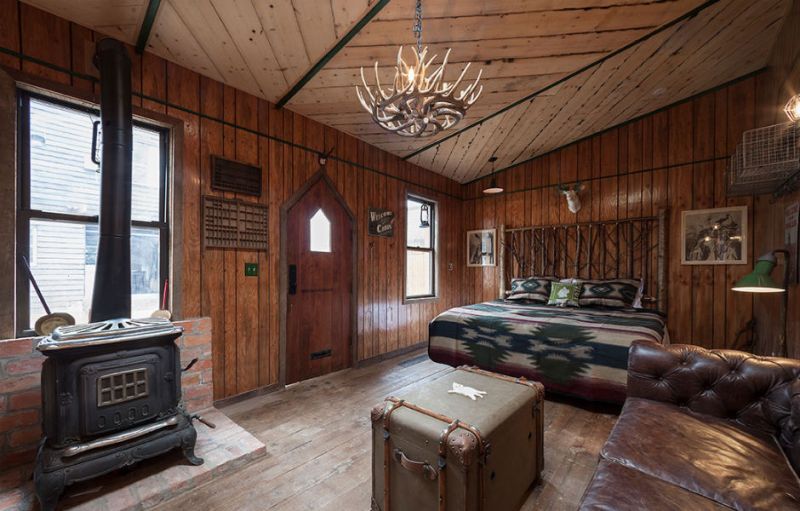 Lyon Porter knows the New York real estate market all too well. That's why he made it to sales and leasing director at Town Real Estate. Porter, who once pursued a career in professional hockey, used his same determination in his career. So, it makes perfect sense when Porter realized that New York needed an oasis that was a departure from the hustle and bustle of the United States's largest city, that he created Urban Cowboy, a bed and breakfast complete with a log cabin right in the middle of Williamsburg, Brooklyn's coolest neighborhood for young professionals and hipsters alike.
"The Cowboy is the definition of a passion project," declares its website. "In an area starved for authentic short term housing options, we provide an opportunity to experience Living in a Modern Luxury Brooklyn Townhouse, with an Industrial Williamsburg/Adirondack/Cowboy Sensibility."
Now both New Yorkers and visitors can get the feel of a log cabin in the woods (or the wild west, for that matter) or a serene home in the mountains, depending on which room they choose, right smack dab in one of the busiest metropolises in the world. "We are all about that country in the city, an Adirondack cabin in the mountains of Brooklyn, that cowboy life is living your own truth and being happy," says Porter.
Housed in a townhouse that Porter paid just over $1 million for and transformed. "Last August I found her, and won her in a bidding war!" says Porter. " It  was a free standing building (which is rare for the area, it had a front yard, with a blue spruce, sycamores arching over the sidewalk, a front porch, I was smitten." Urban Cowboy has rooms from $100 a night all the way up to around $4,000 for the full five-bedrooms plus the log cabin in the back and a hot tub.
Porter fixed up the townhouse with the help of local artisans and his inner circle. "My good friends Michael and Andrew Wolf helped me find amazing a things in my hometown of Cleveland ,Ohio," explains Porter. "I traveled to the Adirondacks and the guys at Dartbrook Rustic Goods were amazing, and my co-designer Renee Mee  was instrumental in bringing the vision to life. The entire process was organic and there are paintings hanging on wall that were in my grandfather's house."
"A log cabin in the middle of Brooklyn?," you may ask. Yes, that's exactly what we wrote. Now you can feel like you're out in nature minus the five-hour drive upstate. Porter built Kanoono Cabin in the property's back garden."'Kanoono Cabin' is an Adirondack style Cabin with a bit of Western American Indian Flare [SIC]," reads the website. "Outfitted with king size natural Adirondack wood frame bed, floating claw foot tub, wood burning pot belly stove and kitchen, it is the perfect luxury camp out in the city that never sleeps."
So next time you want to be in the city without feeling like you're actually in it, book a room or the Kanoono Cabin at Urban Cowboy Bed & Breakfast, and you'll feel ready for a weekend of R&R. "The Cowboy aspires to fill that void with a personal approach where you feel like your staying in someone's home," says Porter. "That home just happens to be a very luxurious townhouse in Brooklyn."  
For more information, visit urbancowboybnb.com.
Editors' Recommendations