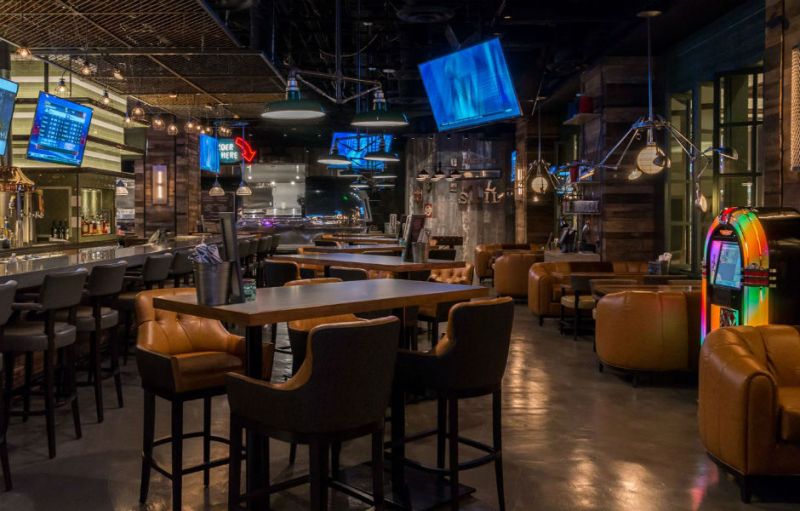 Have you ever dreamed of having a man cave where you can relax alone or with your friends, a room equipped with a giant television, a fridge full of cold beers, and bar cart, and maybe even a little something on tap? Sadly, most of you don't have the extra space in your home, but now there's something even better in Las Vegas.
It's called The Still Craft, Drafts & Eats and it's located in the Mirage Hotel & Casino. "Inspired by the 1920's prohibition era, The Still Craft, Drafts & Eats is the newest man cave/sports bar that offers a vast selection of 50 beers- including 16 drafts and 25 crafts, 'Hop-Tails' which brings together the worlds of beer and liquor, along with specialty craft cocktails that include whiskey, bourbon and rum such as cinnamon infused whiskey called the Fire Water Fashion and a bourbon cocktail called Berry Bugsy," say its reps. "At The Still, you drink straight out of a mason jar or tin, mirroring the prohibition era. Complete with a 24-foot airstream trailer, which will function as the kitchen serving household favorites with a twist, The Still will also have 22 flat screen TVs, which makes it the perfect sports bar to cheer on your favorite teams."
We don't know about you guys, but The Still Craft, Drafts & Eats sounds even better than an actual man cave in your home. We're definitely going to check it out next time we're in Las Vegas. Fifty beers with 16 of them on draft and 25 craft, that sounds like our idea of heaven.
Editors' Recommendations