If someone handed you a considerable amount of cash and told you to go on vacation, where would you go? Majorca? The Canary Islands? Iceland? Bora-Bora? We could keep listing exotic locales, but we'll just let your imagination take over.
The Manual, together with sportswear company OLIVERS, is about to make the above scenario a reality. The winner of the All Over Ultimate Weekend Giveaway will receive no less than $1,500 toward a dreamy weekend getaway.
That's not all, sailor; the lucky winner also receive $500 worth of excellent travel gear from OLIVERS and luxury outfitter Izola. Among the winnings are three pairs of All Overs shorts, one Abraham Lincoln duffel bag, and one Get it Together shave kit. Check out this page to review the giveaway rules and see the full list of prize gear.
Once you've reviewed the rules, simply visit this page, enter your email, and your name will be thrown into the proverbial hat. No purchase necessary.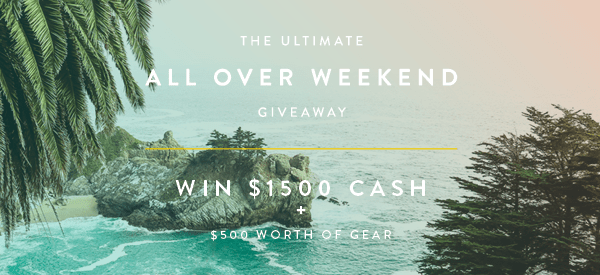 Related: Summer Hot Spots: Where to Head to on Vacation This Year
The contest starts today, July 21, and will end on August 4th. But there's no reason to delay! It only takes a second to enter your email, and you're home free; or more appropriately, anywhere-but-home free. The winner will be selected at random after the 4th, and it might as well be you.
While you wait to receive your victory email, we urge you to check out the great products from OLIVERS and Izola. OLIVERS sells boxer briefs and shorts, while Izola sells everything from home decor products to grooming gear to luggage.
Visit the giveaway page to sign up. To be eligible, you must be over 18 years old and a legal resident of the United States.
Editors' Recommendations