Victor Soto spent a year and a half designing a travel backpack that is a photographer's dream. Then time started speeding up. When he put his creation on Kickstarter, it was fully funded in one day. It closed last month with a total of $78,100 from 341 backers.
So what's the excitement all about?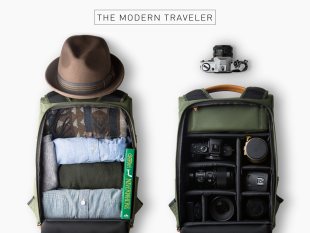 The Vinta S-Series backpack makes it easy to carry your camera on everyday adventures. It features a vintage military-style bag with leather details and magnetic snaps. It's lightweight and has a water-resistant interior to keep your camera gear safe and dry. It can hold a full-frame DSLR camera plus three to five lenses. There's also space to store a laptop (up to 15″), and there are removable inserts you can use to create separate compartments.
It's very versatile. If you don't need your camera on a certain day, you can use it to pack clothes or whatever else you need on your excursion.
While the kickstarter campaign is over, customers can pre-order a bag on Vinta's website. They retail for $279, but currently offered for $249. 
Editors' Recommendations