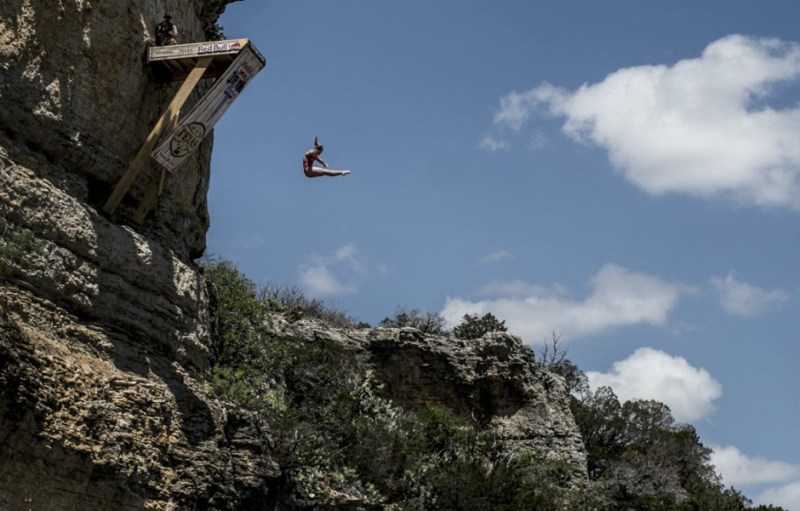 Few sports capture the immense exhilaration and thrilling danger akin to a sport like cliff diving. Not only does it take a kind of unique courage necessary to stand on the edge of a seven to ten story cliff, it also requires a special kind of fearlessness to fling yourself off the edge and into the churning water below. While this sounds like lunacy to mere mortals, the professional world of cliff diving features the most daring of athletes executing some of the most breathtaking of dives. Moreover, these professional cliff divers travel to all corners of the globe to bring this downright jaw dropping sport to people the world over. Because of the sport's electrifying nature, it's only fitting Red Bull — purveyors of the ever popular, "wing giving" energy drink — created a massive tournament to showcase the globe's greatest cliff divers.
Related: Getting down and dirty with the Rugged Maniac obstacle race
After kicking off its 2015 season with stops in Cartagena, Colombia and La Rochelle, France, this tournament — dubbed the Red Bull Cliff Diving World Series — comes stateside Friday May, 29th as the tour heads to Texas' Possum Kingdom Lake. While the event serves as the third of eight men's competitions, Hell's Gate (the dive location's affectionate nickname) officially marks the beginning of the 2015 Women's World Series. Over the course of the two-day tournament, 23 total divers — 13 male and 10 female — plan to hurl themselves into Possum Kingdom Lake, all keenly fixated on taking the weekend's top spot.
To get an inside look at the sport, and to find out what compels someone to hurl themselves some 80 feet off a cliff, we caught up with two of the tour's most promising divers in David Colturi and Rachelle Simpson. Colturi, an Ann Arbor, Michigan native, burst on the Red Bull Cliff Diving World Series scene as a wild card diver in 2011, becoming a full participant in the Series ever since. Simpson, quite possibly the best female diver in the world considering her sweep of the 2014 World Series, hails from the great state of Texas, and returns home this weekend to dive in front of family and friends.
Though both remain incredibly busy leading up to the Hell's Gate showdown, Colturi and Simpson took a moment to shed some light on what got them into such an electrifying sport, how they train for such events, and why the 2015 season might be their best yet.
What initially got you into the sport of cliff diving?
David Colturi: I fell in love with the sport of diving at the age of 5. What started as summer time fun just jumping off the local springboards, turned into a lifelong commitment centered around the liberating feeling of flipping, twisting, and flying through the air. After 16 years of traditional diving I followed in the footsteps of my teammates, Steven LoBue and Kyle Mitrione, and took my first high dives while working in a stunt show at Indiana Beach Amusement Resort. We then tried out for the Red Bull Cliff Diving World Series, and it's been a dream come true ever since.
Rachelle Simpson: I was performing as an acrobat in the show, "The House of Dancing Water" in Macau, China. One of the acts I was in was high diving so when Red Bull announced they wanted women to join the 2014 series, I jumped at the chance!
How much of a rush was it at first to toe up to the edge of a cliff and dive off?
RS: It was definitely a "What the heck am I doing?!" moment. But after I worked up the courage for that first jump, I quickly became a fan; I love the adrenaline rush!
DC: My first high dive gave me a feeling like nothing else in this world. With adrenaline coursing through my veins, a bit of uncertainty in the back of my head, and fear trying to overwhelm me, I leapt from the ledge and experienced freedom like never before. Resurfacing after that first cliff dive overwhelmed me with joy, and gave me a newfound passion for the sport I always loved.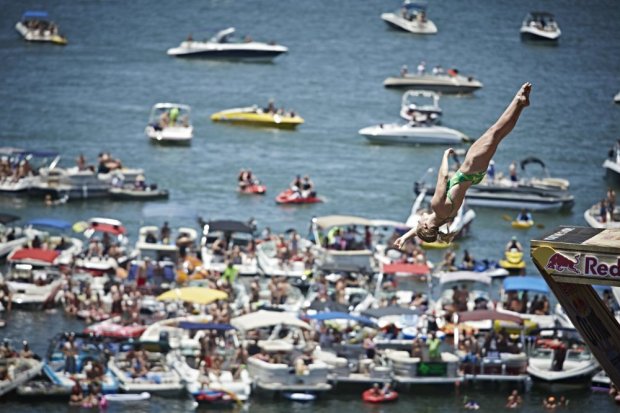 What does each of your training processes consist of prior to an event?
DC: Before an event, it's important to make sure your body and mind are ready to dive. Pool work should be done and accounted for, but it's also important to do some detail work to make sure your rotations, jumps, and form are on point. Gym sessions back off the intensity, but focus on preparing to be explosive, flexible, and healthy. Finally, mental preparation involves visualizing your dives and sharpening your mind for the upcoming stress and adrenaline.
RS: Twenty meter platforms are hard to come by, so I have to make do with only half that height. I train on a 10 meter platform where I usually break the dive down into two separate parts. I'll do the first half of my dive and then run back up and perform the second half. It's not quite the same but it does the trick! On top of diving practice I also lift weights, practice yoga, and run; I'm constantly moving. Hitting the water from that height has an incredibly hard impact so it really pays off to be strong and flexible.
David, you finished 2nd in the opening event this year, how are building off that momentum heading into Texas?
DC: It was a great start to the season finishing second in Cartagena. My diving feels more consistent than it's ever been, and my main goal is to clean up my entries to achieve continued success. Results aren't as important as putting together a full list, and I know if I can hit all four dives I'll be on the podium.
After finishing 5th overall for three straight years, what preparation have you done to improve on that?
DC: The 2015 season is the first year I feel like I've fully committed to cliff diving. After moving to Los Angeles in the off season, every day is built around training in the gym, being at the pool, and then focusing on the cognitive side of the sport. With the help of the Red Bull High Performance Center in Santa Monica, and the Trojan Dive Club at the University of Southern California, I feel like I'm in the best shape of my life, and ready to consistently pop champagne on the podium.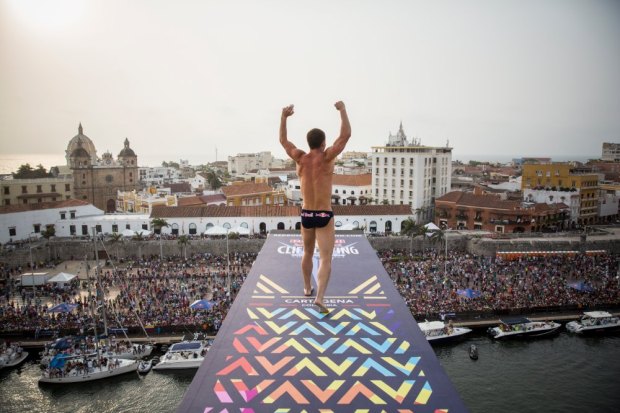 Rochelle, what was it like to dive in front of your home crowd last year in Texas?
RS: What an amazing feeling! To have my first competition be in my home state, and then to top it off with a victory… Wow! I was so proud to give the home crowd a win and their support was incredible; I will never forget those moments.
You also won the inaugural Women's World Title in 2014, what is it like have that to your name?
RS: It was a year of fairy tales for me! Sometimes it doesn't even seem real that I won the title. I am so blessed to being doing what I enjoy, and to make history doing it is something I never dared dream of.
Editors' Recommendations