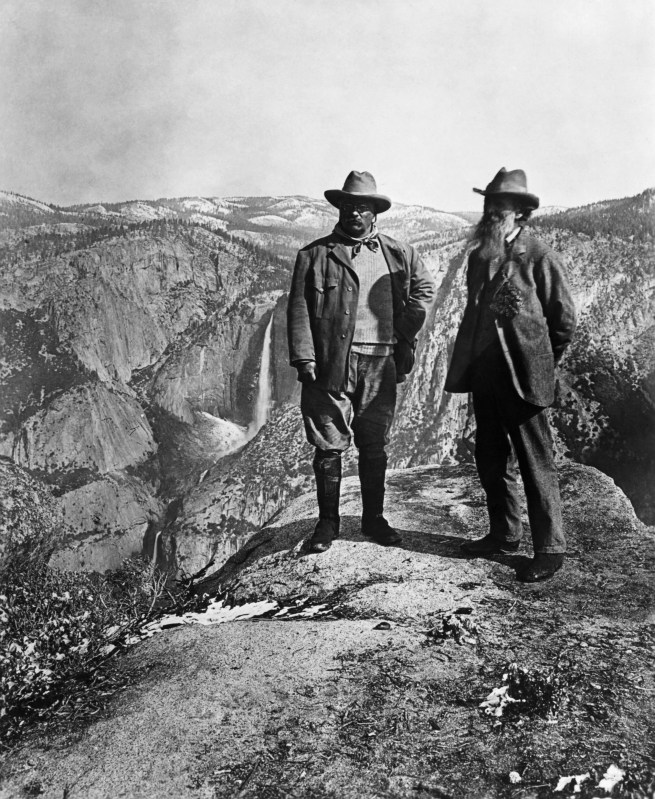 As autumn gently assumes the helm of the season, sliding the summer's hot and sticky sheen off of those regions located above the subtropics but below the northern polar region, the weather grows cooler, the days grow shorter, and the foliage comes alive with color.
The leaves of deciduous trees change color due to a fascinating chemical process: throughout the warmer months, a tree's leaves are loaded with chlorophyl, a chemical that helps transform sunlight into the energy needed for photosynthesis. Chlorophyl is deep green in color. As the sunlight wanes and the temperature drops, trees begin to go dormant, producing less and less chlorophyll. Thus the leaves lose their verdant hue and reveal other chemicals that were already present but were masked by that green coloring. Carotenes and xanthophyll, for example, are yellowy-orange in color; other chemicals present in certain leaves manifest themselves as red or even purple. The result is forests and fields, riverbanks and roadways, veritably bursting with a palette of colors most painters would murder to achieve on the canvas. (OK, most evil painters, anyway.)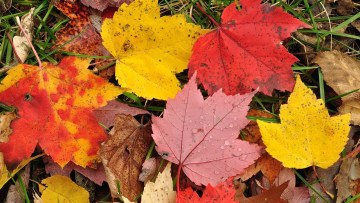 And then finally the leaves die, curling into withered brown husks of their former selves and falling from the trees to crumble and rot on the ground. Before that happens, the best way to enjoy the majesty that is autumn on the east coast is to go for a hike and behold the panoply of color at your leisure.
Wild Leaves & Waterfalls
There is a famous driving route through stunning Shenandoah National Park called Skyline Drive. The road follows a mountain ridge and reveals truly awe inspiring vistas of some of Virginia's most gorgeous scenery. Because the drive is elevated, most of the hikes we're discussing here flip the standard paradigm, however: you will start your hike heading downhill, then hike back up to your car later. If you plan things properly, you can complete several of these hikes in one vigorous day, beholding plenty of fall foliage and ravishing waterfalls, as well. There are more routes to be considered, but I recommend these two not be left off any Skyline Drive hike itinerary:
Jones Run Falls – This softly cascading waterfall caresses smooth and mossy rocks during its three dozen foot downward tumble, and it offers plenty of flat, dry rocks on which to sit and snack, meditate, or chat. Park by Mile Marker 84.1. You can complete the 3.4 mile roundtrip in under two hours without much effort, especially as the 900 foot elevation change is gradual.
Overall Run Falls – From Mile Marker 21.1, you are but a 3.2 mile hike to the tallest waterfall in the area. Overall Run Falls is nearly 100 feet in height, and the view of the land spread out around and beneath it is stunning, especially as the foliage changes in the mid autumn. The 6.4 mile loop involve more than 1,800 feet of elevation, so leave yourself some time for this one, and bring plenty of water.
Where History & Nature Collide
Early July of 1863 was a bad time to find yourself near Gettysburg, Pennsylvania. The late autumn of almost any other year is a great time to be there, however. There are walking trails (and walking tours) that will take you around the famous Civil War battlefield itself, or you can move a bit farther afield and explore the area for its natural beauty.
Strawberry Hill Nature Preserve – Located just fifteen minutes from downtown Gettysburg, this nature preserve boasts six distinct trails, with loops ranging from less than a mile to more than four miles. None is especially challenging, but all will have you strolling beneath a vibrant canopy of color if you visit at the right time of the year. The Foothills Trail is the longest route.
New Hampshire Leaves
White Mountain Majesty
In case you didn't know, New Hampshire has some of the most amazing foliage anywhere in America. In the state's White Mountains, the leaves go through a long, steady period of color change, with a shift from green to yellow in early August, and a turn toward orange and red as September eases into October. You can't go wrong anywhere in the range, in terms of great hiking and stunning foliage, but there are a few spots in particular not to be missed.
Diana's Baths – The hike to the scenic and historic site known as Diana's Baths is lovely any time of year (maybe not in the depths of winter, actually), but an autumn visit is especially memorable. There are parking areas located less than a mile from the series of waterfalls comprising the Baths, but you can also complete much longer hikes in the area. Try the 1o mile loop to the summit of North Moat Mountain, a peak reaching nearly 3,200 feet in elevation.