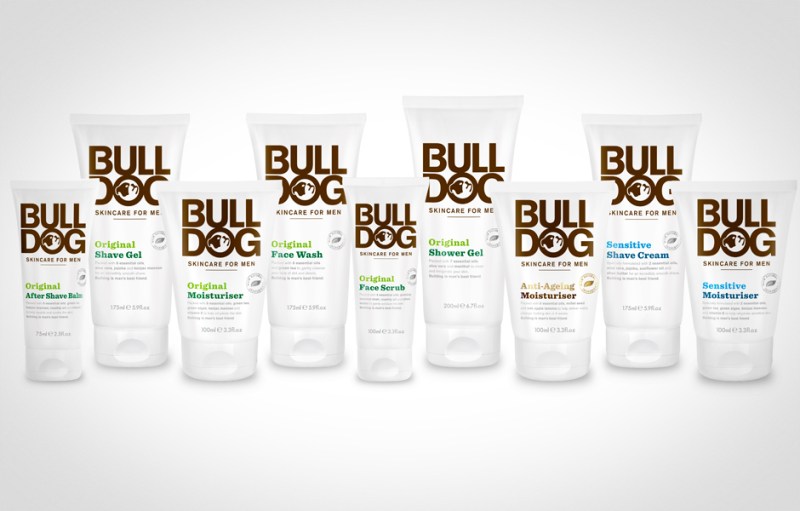 Out of the hundreds of men's grooming products that make it to our testing station (Read: our bathroom) Bulldog has consistently impressed. Their all-natural products get right to the point, use quality ingredients, smell great and most importantly—work. But what also stands out are their prices, which starting at just $10, seem too good to be true, especially for the return on investment. Their eight person team has conquered the hearts of men in the UK, where the brand was founded, and has slowly been trickling into the US market, winning coveted grooming awards from Men's Health and Esquire, and are taking over shelves in places like Whole Foods. They've got three new products coming out this spring, which has given us the opportunity to catch up with founder Simon Duffy, to find out more about what makes Bulldog one of the best men's grooming lines around today.
Why did you start Bulldog? What was the driving philosophy behind starting the brand?
The idea for Bulldog came when I was living in New York and was testing out my girlfriend's (now wife) skincare products. All the products she used were natural and when I went to buy my own, I realized that there were just no natural products available for men. A few days later I met my good friend Rhodri Ferrier and told him about my idea to create a range of natural skincare products for men.
We realized that the mainstream products were incredibly underwhelming and were not actually focused on men. Everything was a "For Men" version of famous female skincare brands such as Nivea or L'Oreal. There are many differences between male and female skin, including that men's skin tends to be thicker, more oily and more hairy. Therefore the formulations used in female products will not produce the best results for male skin.
We decided to do things differently and set out to create skincare products that are purpose-built for men, using natural ingredients that really work. It's an approach that's working really well at the moment and our brand is performing brilliantly around the world.
Bulldog began in the UK in 2006 but launched nationwide in the USA in 2011. What were some of your thoughts, fears, excitement regarding coming to the states?
Bringing Bulldog to America was a very exciting experience for us. We made this move early on with our company so it felt like more of a risk. It also felt particularly satisfying for both Rhodri and myself as we had both lived in New York for several years before we moved home to London to start Bulldog.
We're immensely proud of the fact that in just three years since our launch in America, our line has now expanded to 12 products, three of which we're launching this month (Original Body Lotion, Sensitive Face Wash and Original Eye Roll-On). These products have won numerous prestigious grooming awards in the USA including two from Men's Health Magazine and one from Esquire Magazine.
Why should men care that their products are all naturally derived? What are the harms of chemicals?
We're very passionate about the ingredients we use in our products and want men to care as much about what they put on their skin as the food they eat.
Our products are body friendly, meaning they don't contain controversial man-made chemicals such as parabens, sodium laureth sulphate, artificial colors or synthetic fragrances. Instead we use the world's best natural ingredients and essential oils. We believe the quality of our products is higher than conventional synthetic alternatives.
Our task is to find the very best natural ingredients we can to ensure superb performance in each product. A good example is our best selling Original Moisturizer ($13.99).
We use eight essential oils to give the product an amazing natural smell. In this product you will also find the following brilliant natural ingredients; Konjac Mannan, an Asian plant which is a great natural moisturizer…Green Algae extract, which works to help normalize the skin's moisture content and to retain its suppleness and firmness and Green Tea leaf extract, which is loaded with antioxidants to help protect skin cells from the daily damage caused by free radicals.
Why are natural products better for men with sensitive skin?
Naturally formulated products don't usually contain controversial man-made chemicals or known skin irritants such as sodium laureth sulfate (which is a synthetic chemical that is typically used to make foam in shower gels and face washes). Sodium laureth sulfate can also trigger the symptoms of sensitive skin. In contrast, we've replaced that chemical with natural ingredients derived from coconuts in all of our products because we think they do a better job.
Bulldog's Sensitive Face Wash, Sensitive Shave Cream and Sensitive Moisturiser have also been formulated with Patchouli and Cedarwood essential oils, two of the most suitable oils for sensitive skin. These two oils are celebrated by aromatherapists worldwide for their therapeutic skincare benefits. Our Cedarwood oils comes from the Atlas forests of Morocco and Patchouli is a fragrant shrubby East Indian plant from the mint family.
The Sensitive Skin Moisturizer is one of our favorite products. We've had girls compliment our cologne when we were only wearing the moisturizer. But, How do I know if I have sensitive skin?

Men's skin can be sensitive in different ways, ranging from a mild transient tingling sensation, to minor redness, to dryness experienced as tightness, roughness or flaking. We have found that as more men adopt a skincare regime, they have become more conscious of the way their skin reacts to different products. There is a strong demand for more sensitive options.
Among the three new products that just launched is an eye roll on. What is this? Why should men use eye cream? Doesn't face cream take care of that already?
Our Original Eye Roll-On has been formulated to reduce the appearance of puffiness, dark circles and fine lines around the delicate eye area. It is packed with avocado, borage, cucumber oils and Brazilian ginseng extract as well as botanical silicon from millet seed and oak apple tannins. Our Original Eye Roll-On is designed with a cooling roller ball dispenser which makes it easy to target the delicate under eye area and helps stimulate microcirculation activity through the soothing action of the roller ball on your skin.
There's also an all natural face wash—what's the difference between a scrub and a wash? When should I use each one?
Our Original Face Wash is packed with green tea and Bulldog's unique blend of eight essential oils. We've designed it to be a gentle but effective every day facial cleanser that is non-drying. It will leave your face feeling refreshed and free from dirt and debris. I would definitely recommend using a natural face wash instead of soap because ingredients in soap called surfactants allow oil and water to mix, which helps soap to remove oil from your skin. However, many conventional soaps are using surfactants that are proven to be harsh on skin, especially dry skin. Healthy skin has a pH of about 5.4, while most soaps have a pH between 9 and 10.
Our Original Face Scrub on the other hand, is the only product from our line that we don't recommend using on a daily basis. We recommend using this two or three times per week to gently exfoliate the skin. If you haven't shaved for a couple days, the pumice and coconut shell particles act as a perfect prep for an ideal shave too. It's a fantastic product.
Why is your brand called Bulldog?
We picked the name because the Bulldog represents all of the positive attributes of men. Yes, he may not have a rippling six pack, in fact he's a little overweight and quite wrinkly, but he's also tenacious, loyal, honest, hard working and protective. We believe that our products contain all these qualities, which is why we sum the range up as man's best friend. I believe that our customers identify more with the characteristics of the Bulldog than the unattainable images of ridiculously ripped male models or sports stars that most men's brands use in their advertising.
We are also massive dog lovers at Bulldog. Currently we have two dogs, Bruno and Huxley, in our London office. Rhodri also used to have a Bulldog called Spike when he was growing up. They are amazing creatures.
What's the biggest mistake you see men doing in their grooming routine?

I think most men underestimate the importance of incorporating the highest quality products made with world-class ingredients into their regimes. As Bulldog demonstrates, this does not automatically translate into having to spend big on expensive products, as our line starts at just $9.99.
Whenever men ask me how to start building their own grooming regime, my advice is always the same; try using our Original Moisturizer and our Original Face Wash. I'm convinced that in just a few weeks their skin will look and feel healthier.
Most men who are yet to venture past soap and water don't realize that soap dries their skin because of the issues with harsh chemicals and formulation that I've already mentioned. A much better idea would be to use our Original Face Wash, which you can buy nationwide in Whole Foods, Sprouts, Vitamin Cottage or online at meetthebulldog.com
Follow up with our brilliant Original Moisturizer, which has become something of a hero in our range. I think it does so well because of its brilliant performance. We use eight essential oils to give the product our refreshingly masculine signature fragrance, as we cram in many powerful natural ingredients to deliver superb results.
More about Bulldog Skincare here!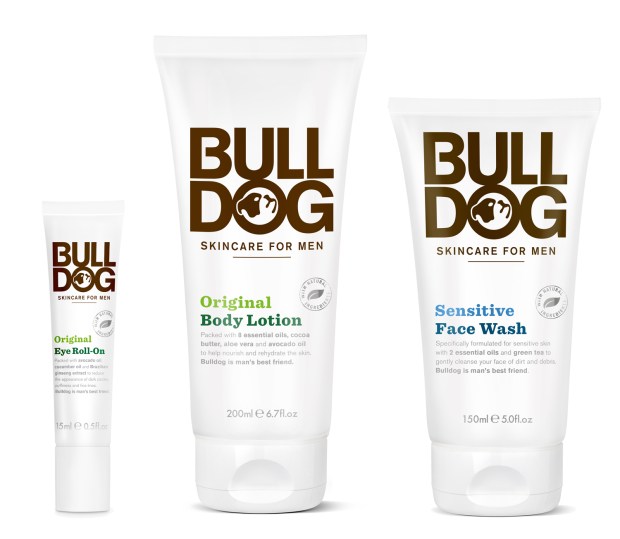 Editors' Recommendations