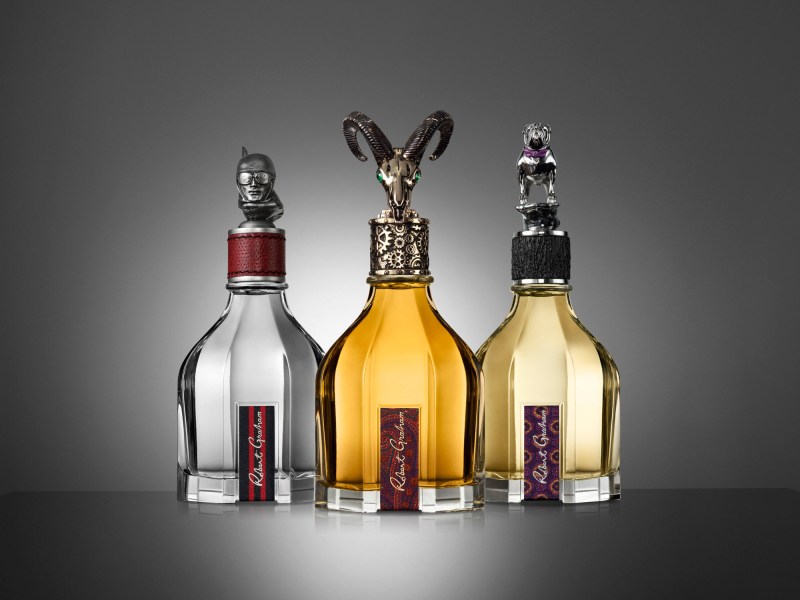 Sure, Robert Graham's sometimes loud, Euro-flashy designs aren't for everyone, but at least one of his fragrances, a first for the designer, will probably appeal to you. They're inspired by the hard stuff, after all, and you all like that. Graham loves it too and so he looked to his favorite fancy whiskey, to come up with essences that are aged and single blended. Each of the fragrances is poured into a decanter-like bottle and topped with an ornate cap that reflects the scent within.
Courage refers to what you need whilst driving your very fast, very fancy sport car around miles of cliff-side hairpin turns. Weirdly the top note is a bit of liquid courage, Vodka Citron, which you definitely should not imbibe before hopping into said vehicle for a joyride. That alcoholic note is blended with Bergamot and smoky wood as a nod to that coastal drive. Atop the intrepid scent is a leather stitched base reminiscent of a steering wheel and a replica of a hood ornament from the 20s, a nonplussed driver who clearly eats fear for breakfast.
An English bulldog, nattily turned out in a purple bowtie, apparently best illustrates Valour. The pup lords over a fragrance that's an unexpected mix of clary sage, coffee and amber wood.
Finally, Fortitude is a man cave-like blend of tobacco, patchouli and tonka bean. And what could be the symbol of strength, determination, and possibly sexual stamina? A ram with glittering green eyes, of course. The horned creature's head is mounted on a "steampunk gear" to convey Graham's love of racecars. No matter which fragrance you pick, once you've drained the bottle, it's a pretty awesome addition to your bar cart.
Editors' Recommendations