When you think of rock icon Lenny Kravitz, you probably think of masterful guitar playing, a soulful singing voice, occasional film roles, prefab homes, and awesome hair. You probably don't think about toothpaste.
And for much of his storied career, Kravitz didn't think much about toothpaste or teeth in general, either. However, his future partners in the toothpaste brand Twice did. Brothers Julian and Cody Levine are the sons of two dentists and grew up with oral health care a regular topic of family conversation. One of the sub-topics within that long-running chat was the way in which a healthy smile inspires confidence and happiness, whereas a smile plagued by poor oral health leads to self-doubt and even self-loathing.
With the understanding of the power of a smile in mind and the will do help those without access to proper dental care at heart, the Levines joined a team of dentists and volunteers who would be offering free oral care to underserved populations. Another member of that team was none other than Lenny Kravitz, who signed on to help underprivileged communities in his ancestral home, the Bahamas. Kravitz was there on behalf of his Let Love Rule Foundation, and the initial mission of the trip to the city of Eleuthera was to provide oral health care services to the local population.
But what Kravitz and the Levines experienced there would lead to something bigger. The difference proper dental care made to those people — the very way they smiled once they could finally flash a grin with pride — inspired the trio not to stop there. On learning that some 85 million Americans lack oral health care coverage and that fewer than half of all Americans brush their teeth more than once a day, they decided that a new toothpaste brand was their avenue toward improving oral health — and smiles — worldwide.
From there, Twice was born. It is more than a toothpaste brand, though: it's more of a toothpaste movement. The goal of Twice is to "re-imagine brushing twice-a-day by creating an experience people would actually look forward to — every morning and every night. By evolving brushing into a ritual rather than a chore."
Adds co-founder Cody Levine: "When it comes to living a healthier life or prioritizing your well-being, oral health is not usually top of mind. So part of changing people's brushing behaviors is to change their perception of what toothpaste is meant to do."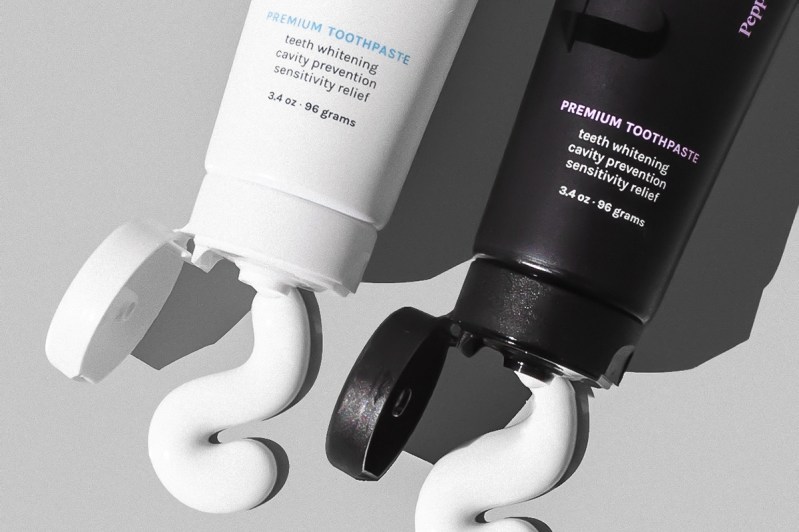 Twice toothpastes come in two different formulations. There's Early Bird, which blends wintergreen and peppermint flavors and is meant to invigorate, and Twilight, which has a blend of peppermint, vanilla, and lavender. Both formulas are designed to whiten, strengthen, prevent sensitivity, and remove plaque. So, you know, toothpaste stuff. Thanks to those two different flavors and the different packaging colors, using Twice toothpaste begins, after a few days, to feel like a regular part of life; the two brushing sessions are boxes you have to check to be done with a proper day.
If getting a few more people to brush twice a day were all this stuff ever did, that would be a win for Kravtiz and the Levines. But of course, it wouldn't be a big enough win. As Julian Levine says: "It is a sad reality that the condition of someone's smile can hold them back from living their life the way they are meant to. Given Twice's mission to help fix this and provide a vehicle for change, Lenny, myself, and Cody together teamed up to create and build Twice from day one [after the trip to Eleuthera]." That's why they donate 10% of all profits to the GLO Good Foundation, which offers oral care services to underserved populations all over the world.
A two-pack of Twice will run you $17 for a one-time purchase, or you can save 10% with a subscription. You can puchase Twice below: