Luke Ditella lives a pretty good life. First of all, he is a good lookin' fella – one day in 1000 years when someone wants to see the poster boy for the 2010s, Luke's face will be it. Since he is so swarthy and beardy, it only makes sense that he is also a model. Even better, his fiancé, Melissa Dilger is an amazing photographer; hence, his Instagram account is perfection. Together they travel the world for work, but also for pure pleasure. Currently, he is the new LAB SERIES Brand Ambassador and the face of their iconic Future Rescue Repair Serum.

We rang up Luke to hear about his five (ok seven!) favorite travel destinations and what we can find in his Dopp kit:
1. Southwest France
I love going anywhere in Southwest France, from the Basque country (yes, I know that is Spain!) to Biarritz and Hossegor. This part of the world has so much history. The coastline is amazing and the surfing is excellent. It has everything I want in one place. Every time I go back it is a whole new experience, I think I was from France in a past life!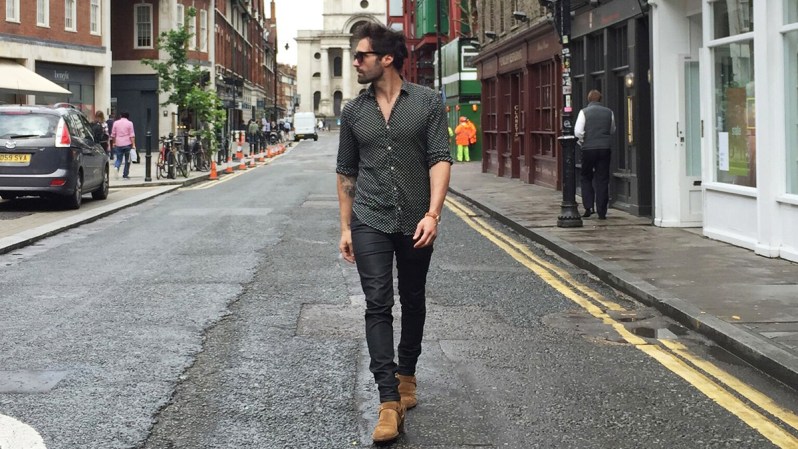 2 & 3. Paris & London
Paris and London are tied for me for metropolitan places to travel to. It seems antiquated, but London has a lot of similarities to NYC and Paris. I love the way it is situated on a river, with amazing architecture and great coffee shops. It is such a romantic city! I was also at London's Men's Fashion Week representing Estee and that was amazing.
We went to Paris and ended up extending our stay. We are huge fans of the palace of Versailles, which is only an hour away from the center of Paris. In fact, our wedding this fall will be an ode to Marie Antoinette.
4. Austin, Texas
Melissa and I first went to Austin after my mother passed away five years ago. It was growing but still had this unique weirdness to it. We met an incredible group of people there and they really accepted us and showed us a side of Austin that made us feel at home. It was like one big hug. There is a palpable energy, not the same as NYC but it has its own uniqueness.
5. Banff, Canada/Oslo, Norway
I really can't just pick five places. Here is another tie.
I am more of a cold climate type of person since I grew up in the Northeast. I can't deal with Cali where it is the same temp all year. In Banff, I love the cascading mountains and little restaurants in the village. It is a very hospitable and beautiful place.
Oslo is just cool in general. Norway is on the forefront on so many progressive ways of living. Melissa and I had an absolute blast there. It's a place I could see us having a home later on in life.
6. Fogo Island, Newfoundland
How can I leave out Fogo Island! You have got to go here. It is an absolute treasure! I went there to do a travel series for GQ and learned that Scottish fisherman settled the island in the 17th century. 12 families settled there and all of the descendants are still living there. All the original homes still stand!
To move there you have to be accepted by their council. There are still places that work on the barter system. I stayed at the Fogo Island Inn and was hosted by the owner and the most famous resident on the island, Zita Cobb. She is one of the most brilliant people I have ever met. She moved to the States, made millions in tech, and moved back to build this place. It is 100% sustainable and the landscape is incredible and awe-inspiring. It looks like Hawaii, but you have icebergs floating by. It is one of the most insane places I have ever been.
My Dopp Kit:
I always travel with the Invigorating Face Scrub. The thing with me, I am 100% Italian so I am always greasy. The first thing I do is use that when I land to get the grime off my face.
I never leave home without the SPF moisturizer and use it as often as possible since I am always in the sun.
Of course I use the Lab Series rescue serum!
Those are the only three, because if I brought more I would need a checked suitcase.
At home I use the shampoo. I like thickening shampoo since I wear hats a lot and my hair gets greasy. It makes it lighter and clean feeling. It doesn't leave a film and sometimes my head gets itchy with other shampoos.
The Maxcellence face cream is my go to for the serious anti-aging properties. A lot of creams leave a film and the Lab Series products never leave a film for me. They really absorb and work into my skin.
Safe Travels!