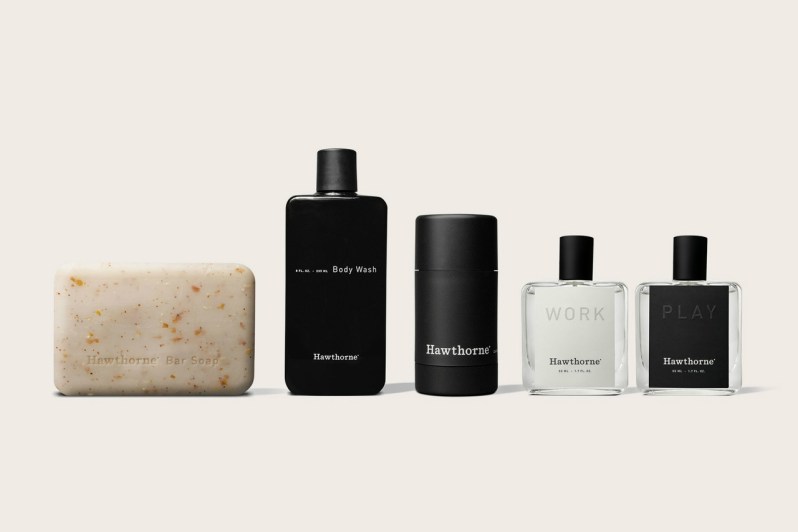 There's the men's grooming experience a lot of guys go through — running to the big box store or the drug store to restock the essentials — and then, there's the personalized grooming experience being offered by Hawthorne, a grooming brand that allows guys to get truly customized daily essentials delivered right to their door.
Launched by longtime friends Phil Wong and Brian Jeong who played off their fashion and business backgrounds respectively, Hawthorne debuted in 2017. At that time, the brand's focus was on offering customized, premium cologne delivered by perfumers. From there, the brand expanded into producing premium deodorant and body wash with plans for a full suite of grooming products. Hawthorne has since used customer feedback and data to craft a grooming algorithm of sorts, and it's one that keeps guys coming back.
Both founders said there's a "level of sophistication" that comes with the brand's products, specifically with finding something as potentially confusing as a new fragrance.
We went through the process from start to finish to get a feel for the customization system. First, customers take a survey that asks about everything from skin type (dry, sensitive, oily), to how often you apply deodorant, to how much you sweat. You can even offer insight into your lifestyle, such as your drink of choice (we picked beer), which speaks to how you'll wear and use your Hawthorne products.
From there, the process is simple and straightforward: Enter your payment and shipping information, then wait as your custom products are crafted and delivered right to you in simple black packaging (part of the clean design experience that's behind the brand's whole ethos). The final results for this writer included both "Work" and "Play" scents, plus a body wash designed to hydrate and invigorate, along with bar soap (a stimulating mint and eucalyptus scent), and deodorant (a refined scent that's a far cry from Old Spice).
The final verdict? These products work, and they work well.
Working with labs across the country and scent experts who've made colognes for the likes of Tom Ford has clearly paid off. And the use of a straightforward, quick survey (plus the ensuing fast delivery) is likely a selling point for the guy who just wants to upgrade his grooming routine, and quickly.
The whole process is done in a way that makes sense and relates to those who are just starting their grooming upgrades (or like this writer, who wanted a grooming refresh). Personally, I loved the Work cologne the best. It's a scent that offers up fine all-day performance and an air (pun intended) of refinement. Where will your grooming experience start and end when it comes to Hawthorne?
You'll just have to try it out yourself to find out.
Editors' Recommendations