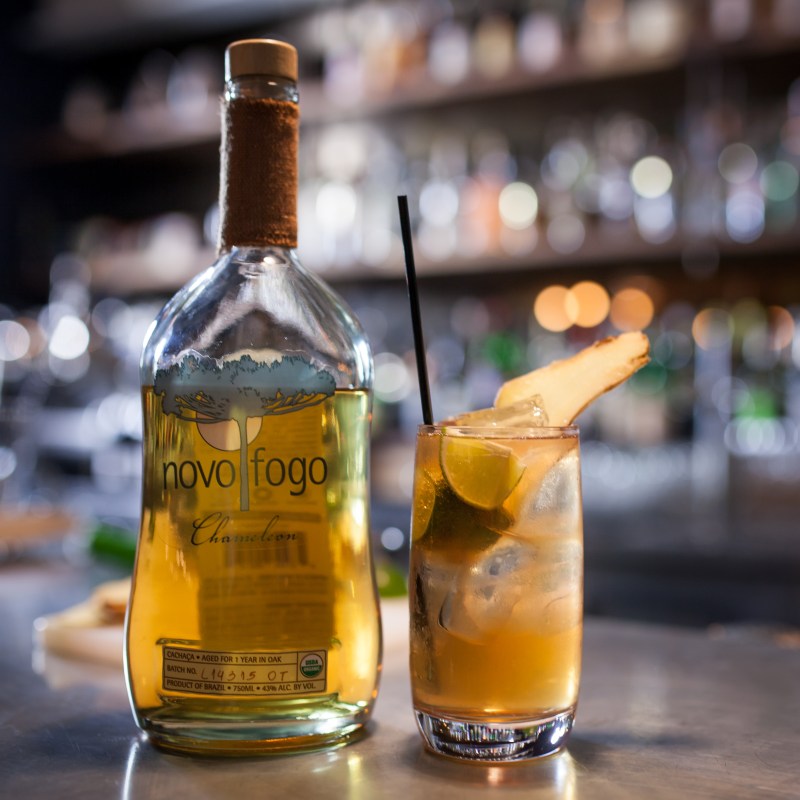 While you may not have heard of cachaça before, in the next month you surely will be hearing more and more about it as we get closer to the Rio 2016 Olympics. This sugarcane spirit, made from the fermentation of fresh sugarcane juice (compared to rum, which is made with a refined sugar product, molasses) is native to Brazil and is the key ingredient in the nation's national cocktail, the caipirihna (kay-pree-nah).
To get in the mood for this year's Olympic games, we've put together a list of must-try cachaças so that you have them on hand when the Olympic torch reaches Rio in a few weeks.
Novo Fogo Chameleon—This expression marries the savory identity of Novo Fogo's Silver Cachaça with the vanilla notes of their Barrel-Aged expression. It's aged just long enough to reach mixability peaks without losing its rainforest and sugarcane funk. A hazelnut nose is continued with sweet and spicy herbs in the palate and finished with lively citrus. From tiki drinks to stirred aperitifs, this versatile cachaça is the bartender's friend (32.99)
Novo Fogo Graciosa—Graciosa is aged for two years in repurposed oak and finished for eighteen months in castanheira do Pará (Brazil nut) barrels, lending it a vibrantly aromatic yet creamy disposition: starting with pecan and orchids on the nose, the palate morphs into cherry custard and finishes with pleasant notes of soft clove and anise. ($34.99)
Yaguara Branca—Bottled at 40.5% ABV, Yaguara Branca was developed by Erwin Weimann and Jean Ponce, Yaguara´s Brazilian brand consultant–keeping the families' tradition of blending. Ponce is a former bartender at D.O.M. in São Paulo, noted on San Pellegrino's World's 50 Best Restaurants list. Branca is a traditional, 100% white, unaged cachaça.
Related: Cannabis Cocktails 101 with Warren Bobrow 
Yaguara Ouro—A barrel-aged expression of blended cachaça that is bottled at 42% ABV. Developed by Yaguara's master blender, Erwin Weimann, Ouro is an original blend of cachaça aged in two Brazilian native woods—Cabreúva and Amburana–as well as American Oak. ($44)
Avuá Prata Cachaça—Rested in stainless steel casks before being hand-bottled.  The result is a lush and crisp spirit with subtle banana and floral notes, making it perfect for caipirihnas or other cocktails. ($28)
Avuá Amburana Cachaça—Aged in Amburana wood, an indigenous wood, this cachaça comes away with warm and savory notes on both the nose and palate. Good for mixing or for sipping neat. ($36)
Editors' Recommendations