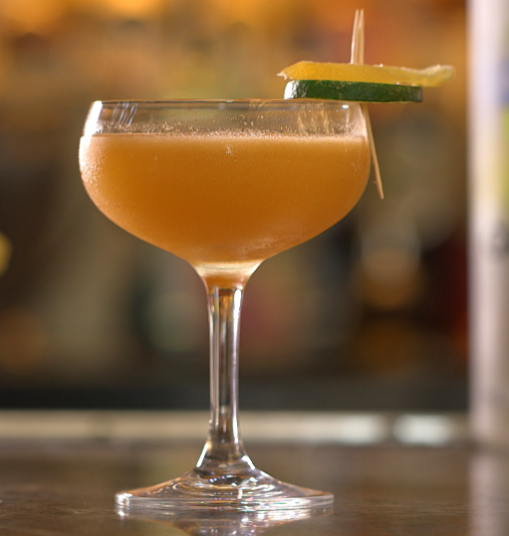 National Martini Day is over, but there is never not a good time for a Grey Goose cocktail. No matter the season or the reason, the premium vodka is versatile and craft bartenders around the country are proving that, lately more than ever. Check out these new cocktails and the ways bartenders across the country are using the spirit's flavor profile to bring their cocktails to new heights.
Grey Goose Such is Mango
(Dan Sabo, Beverage Manager and Bartender at the Ace Hotel)
1.5 oz Grey Goose le poire
.75 oz Mango puree
.5 oz Ginger Syrup
.5 oz Lime juice
.25 oz Benedictine
2 Dashes Brother's Aztec Chocolate Bitters
5 Drops Sriracha
Method: Add ingredients to mixing tin with cube ice and shake. Double strain into a cocktail coupe. Garnish with a lime and ginger slice.
Related: Blue Tooth Enabled Vodka: What Hath God Wrought?
Grey Goose High Five
(Created by Guillaume Jubien for the 2015 ESPY Awards)
1.5 oz Grey Goose
1 oz Watermelon juice (cold press)
2 oz Coconut water (cracked open)
.5 oz Fresh squeezed lime juice
.5 oz Habanero pepper syrup*
Method: Combine all ingredients in a shaker and shake with ice and strain over fresh ice in a long glass and garnish with a red-hot chili pepper.
*Habanero Pepper Syrup:
Method: Heat up on a pan and dissolve sugar until it become a syrup. Slice 1 habanero pepper without seed and infuse cooling down syrup. Strain.
Kings' Highway
(Jeff Bell collaborating with fashion company Ovadia & Sons)
2 oz Grey Goose® VX
.25 oz Belle de Brillet Pear Liqueur
Barspoon Honey Syrup
Lemon Twist
Rocks 2″ cube
Method: Stir
Grey Goose VX Martini Exceptionelle
5 oz. Grey Goose ® VX
Absinthe rinse
Spray of honey water
Garnish or skewer of frozen grapes
Method: Rinse absinthe in glass. Stir VX over ice and strain in martini glass. Spray honey water into glass. Garnish with frozen grapes, a peach slice, or no garnish at all.
("Such is Mango" pictured above)
Editors' Recommendations