While the list of classic cocktails is long and storied, we enjoy asking bartenders what they enjoy stirring up for their friends. We pulled up a stool to the bar at Xiao Bao Biscuit in Charleston's hip Cannonborough-Elliotborough neighborhood and spoke with co-owner and bartender, Joey Ryan to hear his favorite.

As Ryan explains to us:

Like with many of the [cocktails] I've made over the years, it started with a conversation with a guest. There was a great couple sitting at the bar, I was walking them through the menu, the cocktails on the list that pair with specific dishes, and we got to talking about what each of them liked. After making one of the cocktails on the list for the gentleman, the woman told me she liked spicier cocktails, but wanted to stick to Bourbon. I asked her about Campari, she told me she was game for anything. I made the cocktail, and thankfully she loved it, and asked what it was called. I asked her what she was called, her reply, Petra.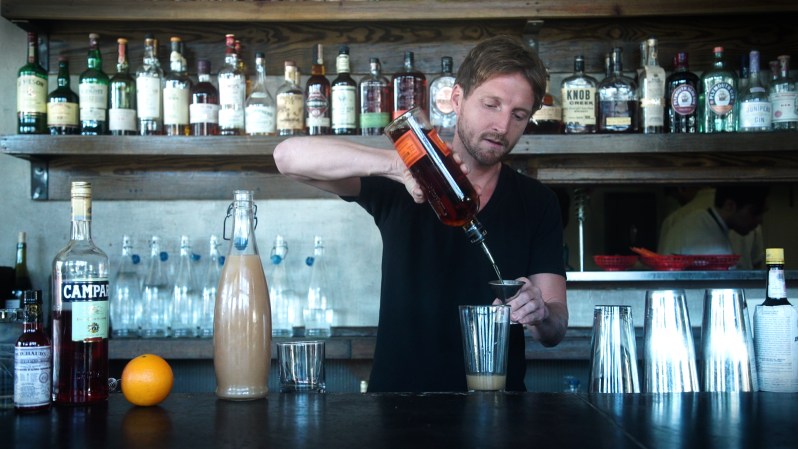 The key ingredient that gives it some kick? Honey that has been infused with Thai chilis for one day. Yes, we already have a quart infused in our kitchen too. Also, that homemade ginger beer isn't for the faint of heart.
Read on to hear how to make the Petra for your next dinner party or Sunday cookout.
The Petra
Ingredients:
2 oz Bulleit Bourbon

1 oz Campari

2 oz ginger beer*

1/2 oz chili honey**

dash of Peychaud's Bitters
Method: Mix the ingredients above, shake and double strain over large ice cube, garnish with orange zest and add a dash of Peychaud's bitters.
*Ginger Beer
1 oz juiced ginger

2 oz fresh lemon juice

3 oz simple syrup made from sugar in the raw

8 oz water
Method: Combine all ingredients and stir well.
**Chili Honey
fine chop 1 quart thai chilis

1/2 gallon honey
Method: Infuse honey with peppers for one whole day and then strain.