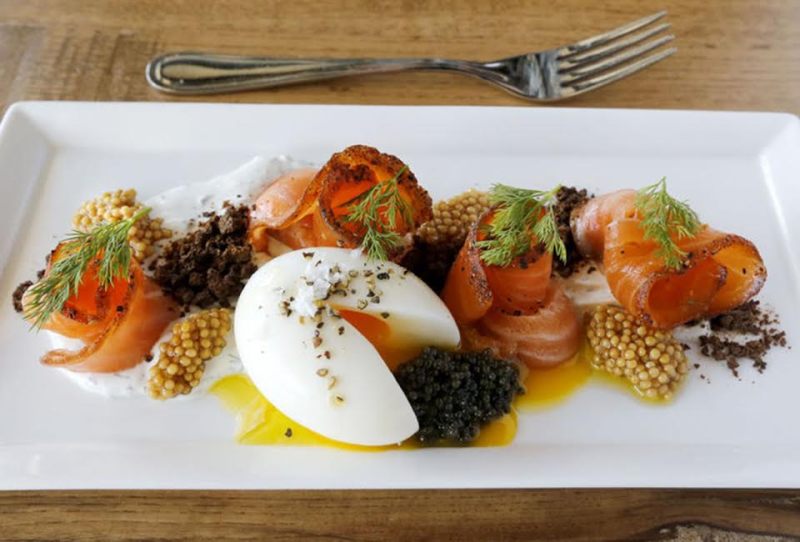 When you think of the culinary hotbeds in the United States, your mind probably jumps to New York, Los Angeles, Chicago, San Francisco or Miami. Hell, we've covered the food renaissance that is occurring in Atlanta for several years now. But it's a safe bet that Richmond, Virginia, wouldn't be top of your list.
It should be. Richmond is most certainly one of the most under the radar culinary hubs in the country. There are 550 restaurants within the city limits, many of which are being helmed by award-winning and cutting edge chefs. Restaurants such as Pasture, Heritage, Lemaire,  the Roosevelt and Acacia Mid-Town set the bar for fresh ingredients and inventive dishes incredibly high.
One of the newest restaurants in Richmond is Southbound, which is located in the Southside neighborhood. Southbound is the brainchild of Chef Lee Gregory, Chef Joe Sparatta and Matt Gottwald. Gregory is the co-founder of the Roosevelt, Sparatta is the co-founder of Heritage and Gottwald is the co-owner of Beechwood Farms. That kind of "dream team" pairing has resulted in Southbound rising fast through the ranks of Richmond's top-flight restaurants.
Chef Lee Gregory took some time to chat to The Manual about the Richmond food scene, the challenges in opening Southbound and the lessons a chef learns in the restaurant business over time.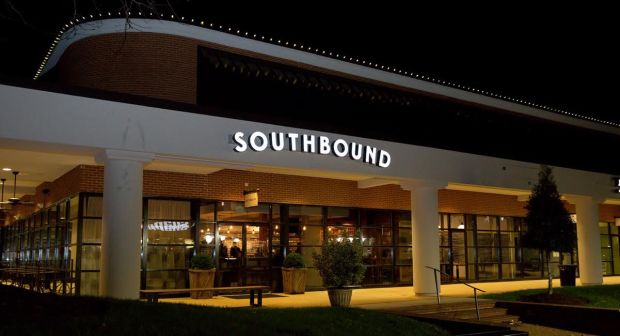 How was the idea for Southbound conceived? Have you always wanted to work with Chef Sparatta?
Joe and I met when he was working for our friend Jason [Alley] at a restaurant called Pasture. That was right around when the Roosevelt opened in 2011. Joe had moved down from Jersey and we spent time together through the chef community and became buddies.
We were both looking to do our own thing. Joe was interested in creating a kind of market concept, but I was looking to do a more standard restaurant. As you can see, we went more in my direction. But the bottom line was that we both agreed that two heads are better than one. The idea of two people in charge was just kind of less scary.
I read an interview where you said that the restaurant is, "very much location-specific." For readers not familiar with Richmond, what does that mean?
We didn't want to open a restaurant downtown and compete with all of the great restaurants there; places like Pasture, Lemaire, Rappahannock, and Comfort. The idea wasn't just to open a restaurant. Southside was dying for any kind of good restaurant. To compare, it would have been like opening the first restaurant in Williamsburg.
Southside is very much bordering on suburbia. It's a neighborhood we both live in. It's still filled with people who work and shoot into the city—the restaurant is in the City of Richmond—but there's just not much there other than some old Italian restaurants and steakhouses.
Did you both share the same vision for the menu? Was it easy to construct and conceive of the dishes that you wanted to serve?
All of us in Richmond buy from the same farmers and sources. Everyone in town, through the seasons, uses the same ingredients—just kind of differently. So Joe and I sat down and kind of figured out what we wanted.
Joe is big on fresh pasta, which is something that I've never really done before, so it was exciting to learn about that. But it really wasn't a complicated thing. It's kind of funny, people come in and try to pick out which dish is mine and which dish is Joe's. It always seems like nine times out of ten that people pick the wrong source. A great example is that there is a fried catfish dish with hot sauce butter and slaw, which sounds like something we'd serve at the Roosevelt. But I don't think I even put that dish on there because I was trying to come up with dishes that were different from what I've been doing at the Roosevelt.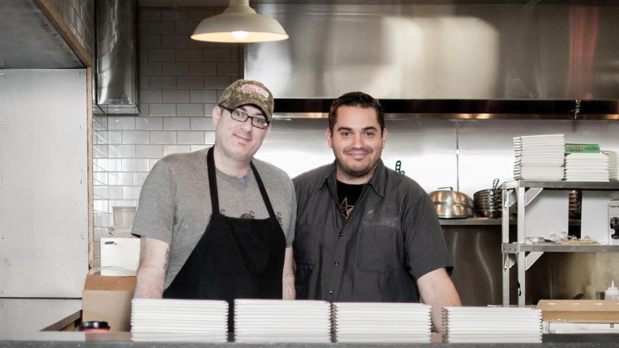 How would you explain the menu? There's obviously a nod to Southern cooking, but there are certainly some twists.
It definitely has a Southern lean, but its all pretty rooted in modern technique and modern food. We have the nicest ingredients, but we make it appealing to the Virginia appetite. We're not in this business to show off—this isn't the restaurant for that. We want to cater to our audience. After you've been a chef for awhile you learn that you have to cook what the people want, so you can continue to cook for yourself—to experiment and see what you can do. You have to make money and not compromise at the same time.
Related: Cooking Heritage Breeds with Fred Neuville
For the locally sourced ingredients, do you think that the influx of high quality chefs and restaurants to the Richmond area has pushed the quality of the ingredients and the sources to another level?
Because of the success of all of the restaurants in town, we've had the doors open to the D'Artagnans of the world. They run trucks down here all the time now—they used to not do that. We're starting to get our hands on more of that kind of thing.
There are also enough restaurants now that we can really support small farms. Ten or fifteen years ago, you'd have a great product that would come around, but it would fizzle because there just wasn't an audience there to buy it. We buy from farms all over the state, from the Shenandoah down to the Shore.
I want to talk a little bit out the interior. What was the inspiration there? The bar is especially impressive. Where did you get the wood and materials for the bar?
Joe's father and mother-in-law are in the interior design business and they already did a restaurant in Princeton called Elements, so we decided to kind of tap into their expertise. We created a Pinterest of things we liked and turned it over to them. And somehow they captured it all for us. As far as the bar goes, almost all of the wood was reclaimed from an old church in the nearby area.
What we really wanted to do was to provide a variety of seating options so that we could encapsulate any kind of dining experience. We have the bar, the patio, private dining and banquettes.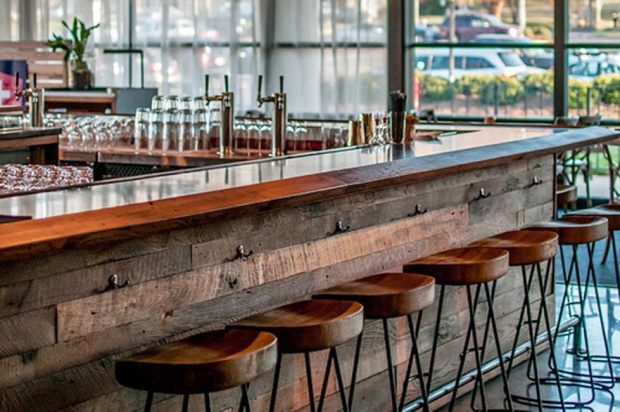 What was the inspiration for your cocktails? I know that the Roosevelt's cocktails have been written up in a variety of places. Were you hoping to recreate that same vibe with the cocktails at Southbound?
We're still finding our way. Overall, the drinks are a little bit more classic; the drink names are more recognizable. At the Roosevelt, it's a little bit trendier or "hipster" or whatever you want to call it.
How has Southbound been received so far? What are you looking to add/improve?
Its been much more successful than we imagined. It is 160 seats where the Roosevelt is 40 seats. We've just been trying to figure out how to make things work for a larger house. We're trying to figure our what our diners want. We don't have people coming in and eating two, three or four courses, which is what we were used to. We want to find repeat customers who will return to the restaurant and explore the entire menu.
The idea was also to have a family friendly restaurant. Joe and I have kids and it sucks to go out and eat anywhere with little kids. The Roosevelt is small and packed, so no one really wants to bring their kids in there. Southbound is big enough so that you aren't on top of anyone else and you can bring the entire family.
Featured image courtesy of Mark Gormus. All other images courtesy of Diego Valdez http://diegovaldez.tumblr.com
Editors' Recommendations