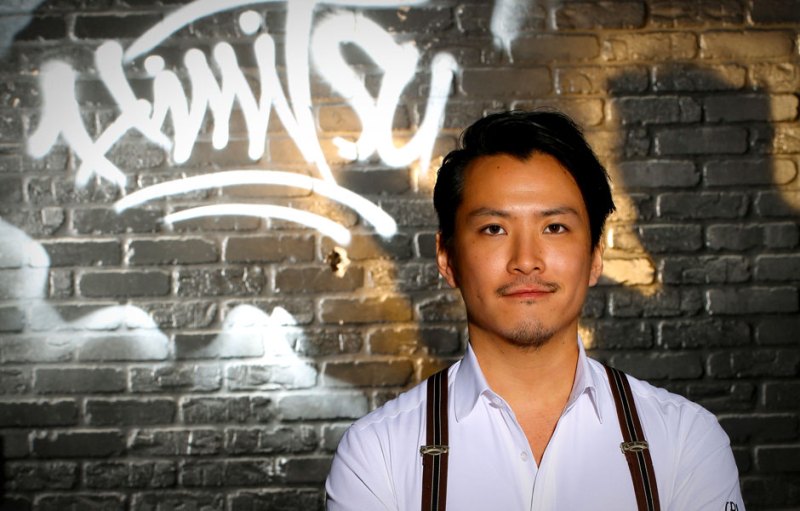 It's been awhile since we've checked in on the Atlanta culinary scene, which has exploded over the past three years. We've documented the range of restaurants opening left and right all across the ATL, including Umi, the renowed sushi restaurant and cocktail lounge opened in 2013 by Farshid Arshid and Charlie Hendon.
Umi's team is behind another much anticipated hot-spot set to open this fall, Himitsu. The concept? A Japanese style speakeasy with a "reservation only" policy. The buzz around the restaurant is due to the fact that its creative direction is being helmed by Shingo Gokan, the award-winning, globe-trotting, Japanese bartender who is currently the director of New York's Angel's Share—known by those in the know as the most demanding bar in the world.
Himitsu is Japanese for "secret," but once word got out about this new project the excitement was anything but discreet. When he wasn't busy traveling and teaching the world about making perfect cocktails, The Manual had a chance to speak with Shingo Gokan and his plans for Himitsu.
Why did you decide to come on board at Himitsu? 
Farshid Arshid sold me on the plan for Himitsu. I liked that every component is led by a specialist in the industry—Tom Dixon's design, Chef Fuyuhiko Ito's food (the famed chef at Umi), T. Fable Jeon's cocktails—it's an amazing combination. I've never done anything in Atlanta or anything like this concept so it is all really new for me. It's a great opportunity.
What should our readers imagine when they hear "Japanese speakeasy"?
In Japan, speakeasies are super small and in old buildings. Himitsu is incognito with a storefront design. It looks like something else from the front, but inside— it is a beautiful lounge designed by Tom Dixon.
What kind of cocktails do you have planned? Where will the cocktail inspiration come from?
Each cocktail will feature at least one Japanese ingredient. We found inspiration around the number seven. The drinks are simple, made with a few ingredients, but complex in flavor. For example, the "Sakura" features Junmai sake, Umeshu, pickled peach and plum vinegar. We are also featuring the "Kemuri" made with Japanese single malt, kijoshu sake, Oloroso sherry, Benedictine, bitters and smoke.
RELATED: A Year in the Life of Death—An Interview with Dave Kaplan of Death & Co.
 What concepts or themes will you be bringing from your other bars and speakeasies?
Attention to detail. From the ice we serve to how we shake and pour the drinks—it all makes a big difference. The ingredients may be minimal, but how we create and serve the drink is what makes the flavor so complex and unique.
Are you looking to specialize in specific flavors or ingredients?
There is a minimum of one Japanese ingredient in each cocktail. There isn't another establishment in this market that offers access to these types of ingredients. For example, we are using dehydrated shiso powder instead of salt and yuzu juice instead of lime to create our version of a margarita.
Will Himitsu feature a food menu as well?
Yes, Himitsu will feature Ito San's sushi and small bites.
How do you see Himitsu fitting in within the booming Atlanta culinary culture?
This concept is totally new to the market. There is not another Japanese lounge in Atlanta that compares to Himitsu. The quality of service, cocktails and atmosphere will fill a void Atlanta didn't even know existed.
When are you planning to open your doors?
Fall 2015.
What can your first patrons expect at the grand opening?
It's like Disneyland – you have to forget realities and enjoy the whole experience—the hospitality, interior design and cocktails served in Baccarat crystal. Himitsu's atmosphere is intimate and elegant. Patrons will notice that each component of the lounge is designed at an exceptional level.
Editors' Recommendations