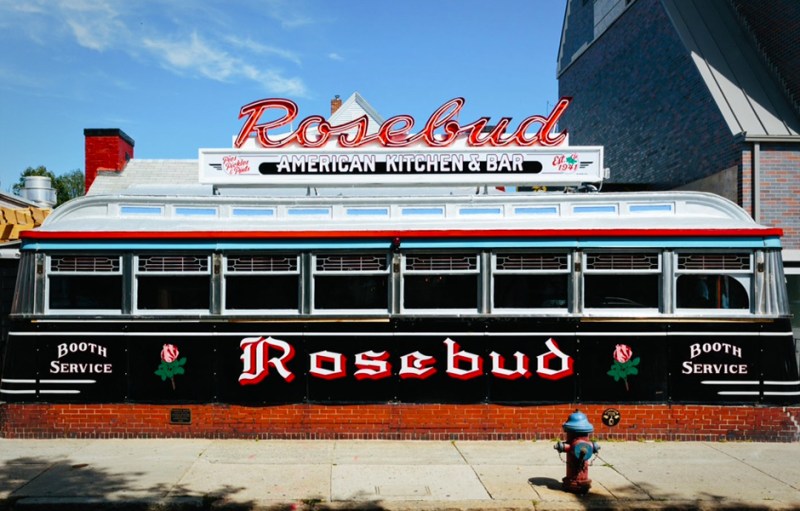 The historic Rosebud Diner in Somerville, Massachusetts, has been reinvented. No longer a diner, the new Rosebud American Kitchen & Bar offers a Pan American menu according to owner Joe Cassinelli.
"I don't want a pretentious restaurant," he says. "My goal is to offer honest food and honest drinks."
While the menu gives a nod to the nostalgic diner days with a dessert case stacked with mouthwatering pies and coffee for a mere buck a cup, the other offerings include a mix of comfort food with a modern, upscale spin.
They offer a variety of entrees and savory sides but the BBQ (a specialty of Chef/Partner John Delpha) is a show stopper. They sell out nightly of the Asian BBQ hog head featuring a whole hog's head dressed with gochujang BBQ, kimchi, and ginger scallion relish, and served with biscuits. They also sell a lot of his BBQ Baconator Meatloaf Fatty.
Delpha, who served as a helicopter pilot in the Army, went to culinary school after getting out of the service. After working in Boston restaurants for 15 years, he opened a restaurant in Vermont and ran it for about five years before teaming up with Cassinelli to create Rosebud American Kitchen.
He truly loves preparing barbecue and cooks on a competition team. One of the items on Rosebud's menu that he points to as a crowd favorite is Atomic BT's (Buffalo Turds), which are jalapeno peppers that have been hollowed out, stuffed with cream cheese and pork, wrapped in bacon, seasoned with BBQ rub, cooked in a smoker and then glazed in barbecue sauce. You can see how Delpha makes them in this video.
"One of our favorite dishes is the Black Pepper Noodles," says Cassinelli. "It's an Italian spirited dish with Southern smoked ham and Chinese noodles. People will ask me, 'Is this an authentic American restaurant?' and I say, 'What's authentic?' America is a melting pot. It's about putting all of these tastes and cultures together. We want to take Southern and Asian and Mexican and other flavors and arrange them in a way that we're excited to present them."
He did a similar thing with the eclectic mishmash of buildings on the site by combining them in such a way to present a more exciting space.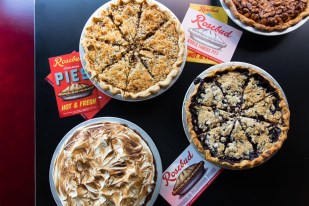 "The diner never excelled at the whole space," he says. "It had a broken up footprint with a bunch of buildings. None of them worked well together. That was the focus of our renovation—to make it feel like one space."
He touts the leather booths in the back as a place where "you can really lose yourself."
Rosebud American Kitchen offers an extensive selection of craft beer and spirits. Right now they are serving dinner and weekend brunch, but plans include adding a lunch menu and more live music.
Editors' Recommendations