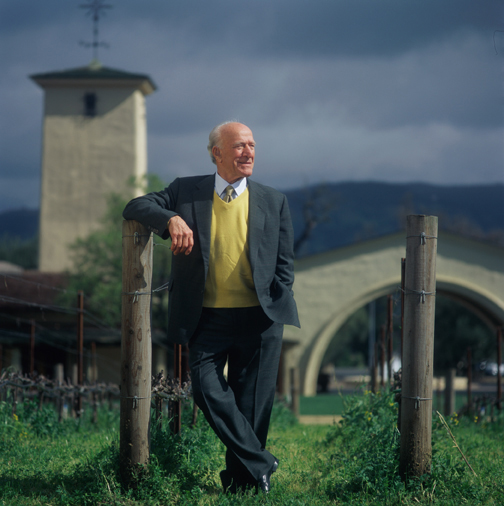 Of all the elder statesmen of the American wine industry, nobody has made as much of an impact on the world of wine as Robert Mondavi. From his humble beginnings at Sunnyhill Winery to his partnership with Baron Philippe de Rothschild at Opus One, Mondavi left an indelible mark. This year marks the centennial of his birth and his Napa winery is celebrating it with much fanfare.
On June 18, the winery held a public toast in his honor and renamed a section of the vineyard, "Robert's Block." Martina McBride honored the winemaker at a concert and fireworks show on June 29. Furniture designer Frank Pollaro created a limited-edition bespoke Robert Mondavi Centenary Table made of California walnut. And master glassmaker Georg Riedel crafted a limited-edition decanter with artwork by Robert's widow, Margrit. Not a bad legacy.
What truly set Mondavi apart from his peers—aside from pioneering the use of stainless steel tanks and French oak barrels in California—was his love of fine wine and fine food. Here at The Manual, we've paired one of his best summer wines with an easy, breezy grilled dish. Viva celebration!
2010 Robert Mondavi Fumé Blanc Reserve: This fruit-forward Sauvignon Blanc (from the To-Kalon vineyard) has hints of lemon and passion fruit with a creamy and smooth finish.
Grilled  Scallops with Rosemary
one dozen large diver scallops
1 1/2 tablespoons extra virgin olive oil
1 teaspoon rosemary
1 lemon (for garnish)
salt and black pepper to taste
Combine scallops, oil, rosemary, salt and pepper in a large non-metal bowl. Let sit for one hour.
Thread scallops onto skewers. Grill at medium-high heat for three minutes on each side. Serve with lemon wedges.
Editors' Recommendations