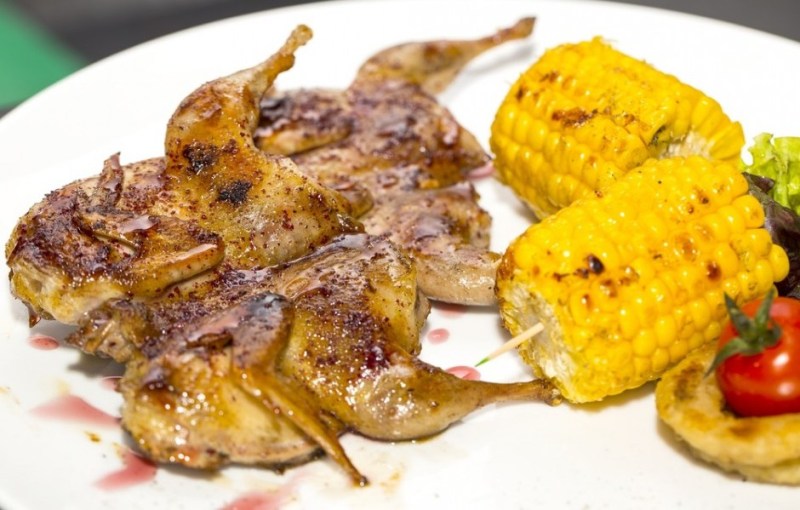 September is the perfect time for tailgating. Everyone is excited for the return of football, the weather is still reasonably warm, and the dream of a successful season is still alive. While burgers and wings are classic tailgating fare, some gentlemen may grow weary of the same old menu. If you're interested in switching up your tailgating cuisine, allow us to recommend quail — the key ingredient of a bona fide quailgate party.
Quailgating, as you might have guessed, is a lot like regular ol' tailgating, only there's a lot more quail involved. If for no other reason, you might do it for the football-related quail puns: Quailback, Quail Mary — the list goes on. The puns will get sillier with each pale ale (or should we say quail ale?).
Related: How to BBQ Game Meat
Of course, quail is also delicious. As a smaller bird, quail is generally easier to cook through than chicken. The meat also has a stronger flavor and is lower in fat. You and your quailgate compadres will not be disappointed.
If you don't have the time or will to hunt quail yourself, check out the Manchester Farms website. There, you'll find a wide selection of delicious quail options, including pre-marinated quail and bacon-wrapped quail. After you check out their menu, you can call 1-800-845-0421 to place an order.
To help you on your journey of quail discovery, we thought we'd present a few excellent quail recipes. These recipes come to us from Manchester Farms of Columbia, South Carolina and three renowned chefs from the American Southeast. Not all of these quail recipes are practical for quailgating, and require at least some at-home preparation.
1. Marinated Grilled Manchester Farm Quail
Chef Michael Perez, Colletta
Serves 4
Ingredients:
Quail:
Marinade:
1 bunch parsley

½ pound Basil

2 oz fish sauce

4 oz olive oil
Instructions:
Combine all marinade ingredients in a food processor. Toss the quails with the marinade and let marinate for 6 hours. Grill the quails whole, about 4 minutes per side. Eat with your hands!
2. Quail on a Stick with White BBQ Sauce
Chef Sean Brock, Husk
Serves 4
Ingredients:
Quail:
8 boneless Quail

16 skewers

½ gallon water

½ cup kosher salt

¼ cup granulated sugar

1 cup thinly sliced chives
Breading:
3 cups Anson Mills biscuit flour

1/2 cup white cornmeal

1 tablespoons corn starch

1/2 teaspoon garlic powder

1/2 teaspoon onion powder

1 teaspoon black pepper

1/2 teaspoon cayenne pepper

1 teaspoon Kosher salt
Mix all ingredients and set aside.
White sauce:
1.5 cup mayo

½ cup apple cider vinegar

1 lemon, juiced and zested

1 tsp Worcestershire Sauce

½ tsp espelette pepper

½ tsp aleppo, ground

½ tsp celery seed

½ tsp cayenne pepper

1 tsp black pepper, ground

kosher salt to taste
Combine all ingredients and reserve.
Instructions:
Place the salt, sugar and water in a blender. Turn the blender on low for 5 minutes. Place the quail in the brine, under refrigeration for 4 hours. After 4 hours, rinse the quail in cold water. Place two skewers in each quail and bunch the quail up as much as possible to make it compact. Place the skewered quail in the breading and allow to sit for at least 4 hours. Fry for 6-8 minutes at 350F. Dip into white sauce. Garnish with chives.
3. Stuffed Manchester Farm Quail
Chef Jeremiah Bacon, Oak Steakhouse
Serves 4
Ingredients:
Quail:
Stuffing:
½ cup brioche (small dice)

Enough milk for soaking bread

½ cup pork confit

3 tbs dried sour cherries

1 tbs onion (small dice)

1 tbs celery (small dice)

1 tbs carrot (small dice)

1 pat of butter

Prepared diced foie gras (*see chef's note)

Hot sauce to taste

Salt and pepper to taste
Stuffing Instructions:
Soak diced brioche in milk for 15 minutes or until fully absorbed. While bread is soaking, Sweat onions, celery and carrot in a pat of butter until softened to form a mirepoix. In a bowl, toss soaked bread cubes, pork confit, cherries, mirepoix, prepared foie gras and season with salt and pepper and hot sauce to taste.
*Chef's Note:
2 oz piece of foie gras

1 small shallot minced

1 clove garlic minced

2 tsp port

2 tsp brandy
Foie Gras Instructions:
Sear foie gras in a pan on both sides. Remove from pan and cut into a medium dice. Sweat shallot and garlic in the same pan until fragrant. Deglaze the pan with port and brandy and reduce slightly before tossing the diced foie gras in the mixture. Allow the mix to cool slightly before adding into the rest of the stuffing.
Cooking the Birds:
Divide stuffing among 4 quail and stuff to cavity. Truss legs to keep stuffing from falling out and ensure that birds cook evenly. Grill stuffed quail for five or six minutes on both sides and allow to rest before serving.
Editors' Recommendations