Now that the holidays are over, there are no excuses for eating like crap. The parents and in-laws are gone, vacation is over, and all of the Christmas cookies you got from the office exchange have finally disappeared. It's a sad time, indeed, that you can't just go home and stuff your gullet full of sugar and fat, but it's also good because that means it's the new year and it is time to hit the reset button.
What do we mean by reset? No, we don't mean cutting everything out completely for the indeterminate future until you are but a husk of yourself, salivating at things that vaguely resemble burgers or fried chicken. Instead, by reset, we mean making intentional choices when it comes to the quality of the foods you are buying. Sure, the clearance rack pork might look appealing to your wallet (just as the 35 packs of ramen for four dollars do), but is that really the best for your body?
No, no it is not. It's not as bad as gas station sushi, but it's still not good.
Instead, focusing on where the meat you're eating is coming from and how it is processed is what is important. That's where companies like Porter Road come in.
Porter Road is a butcher shop that has grown out of the two founders' need and love for locally-sourced, high-quality cuts of meat. The company, which is located in Nashville, works with select local farms, processes all of their meat in their own facility, and hand-cuts each and every piece of meat at their store.
Not only are their meats hand-cut, but the meat is better than most you can find in your local grocery stores. The meats are all antibiotic-free, hormone-free, and pasture-raised – happy cows mean happy home chefs. Porter Road currently offers beef (including some great lesser-known cuts), pork, chicken, lamb, and sausage, which you can order piece by piece or order as part of a gift box.
Not sure where exactly to start? We suggest their best-of box, as it contains a sampling of beef and pork products that'll facilitate at least five or six meals for two people. The Best of Porter Road Box features two dry-aged steaks*, two pork chops, 2 pounds of dry-aged ground beef, 1 pound of bacon, 1 pound of country sausage, and 1 pound of chorizo sausage.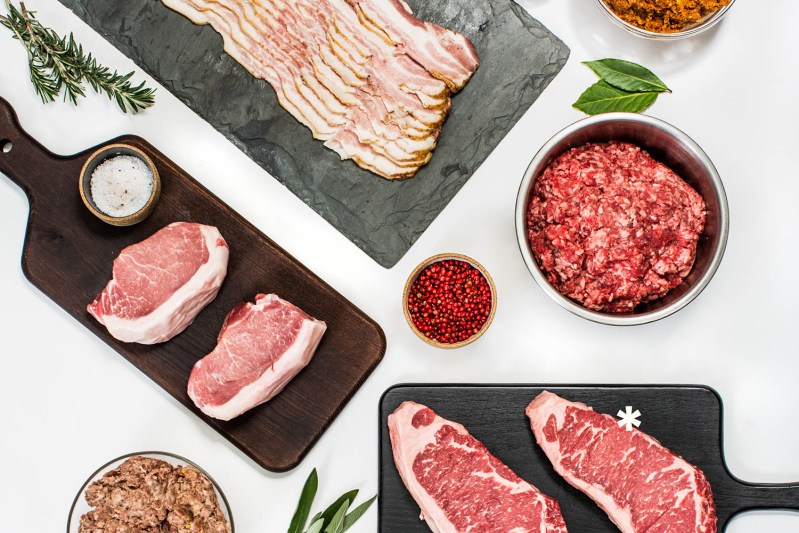 OK, great, you ordered the box, but now what? What if you're not the next Gordon Ramsay and can't just make meals up on the spot? Outside of the obvious – grilling the steaks or making some to-die-for pork chops – you could use some of the ingredients in healthy-ish dishes that are both high-quality and delicious.
To get you started, we zeroed in on one of our favorite items in the box, bacon, which is tied for first with the steak, pork chops, country sausage, ground beef, and chorizo.
This recipe, by Porter Road Co-Founder James Peisker, is a simple and delicious way to have a healthy(ish) dish while still getting your daily allotment of bacon. OK, so maybe it isn't the healthiest out there, but everything in moderation, right? Maybe instead of downing a sixer of cheap beer, you have a sparkling water tonight and indulge in a serving or two of this with your main course (a steak or chop, obviously).
Plus, when you think about it, Brussels sprouts, cranberries, and apple cider vinegar are all good for you, so the majority of ingredients are indeed healthy.
Brussels Sprouts with Pork Bacon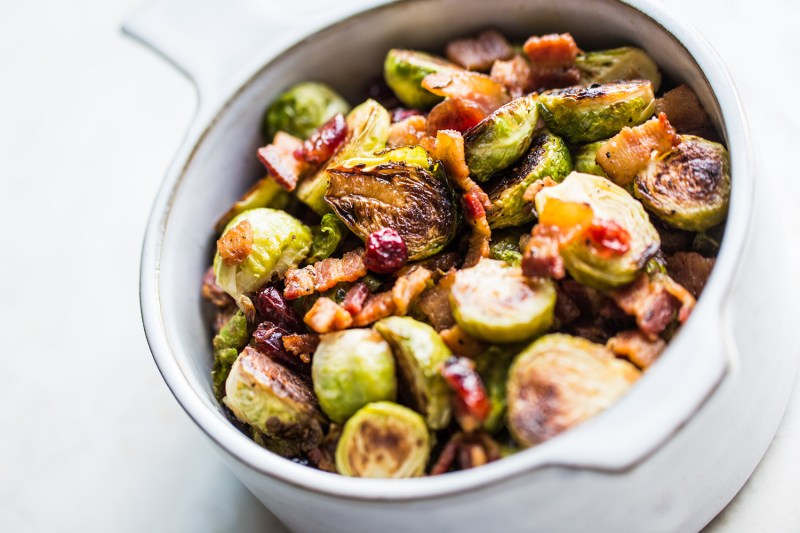 Ingredients:
3 lbs Brussels sprouts
1 lb pork bacon, cut crossways into .5″ strips
.5 cup dried cranberries
2 tbsp apple cider vinegar
Salt and pepper
Method:
Cut sprouts in half, lengthwise. Remove the outer leaves and reserve.
Brown bacon in large skillet, then remove.
Place sprouts cut-side down in pan and cook over medium/high heat until golden brown.
Add cranberries and bacon, then add the reserved outer leaves. Saute until tender, 3-5 minutes.
Add salt and pepper to taste. Finish with vinegar.
After you get through your first box and you decide you want more, Porter Road also offers a variety of subscription boxes to satiate all your meaty needs.
Editors' Recommendations