Most people find donuts hard to resist. Indeed, science has proven that a box of these sugary, circular miracles can make any situation better. If you come in late to the office one morning, for example, just bring in a dozen donuts. All will be forgiven.
How can we honor these magical, albeit somewhat unhealthy treats? With National Donut Day, of course! The big day falls on the first Friday of June, which means, wait — *checks calendar* — today's the day! Donut eaters of the world, rejoice!
No one's sure exactly how the donut came to be such a big part of American culture. One theory is that the Salvation Army introduced the donut to American soldiers during World War I, when the charity offered complimentary donuts and coffee.
Related: A Chicago Café Has Created WONUTS (Waffles + Donuts!)
National Donut Day was formally celebrated for the first time in 1938, as a nod to all the folks — mostly women — who served donuts to soldiers. Little did they know that the donut servers would be needed again when World War II broke out the following year.
As you can imagine, the big donut chains are celebrating the day in grand fashion. However, we recommend that you pass over the donut juggernauts and instead support your local donut shops. Thanks to a small local chain called Blue Star Donuts, Portland, OR is an especially excellent place to be on National Donut Day.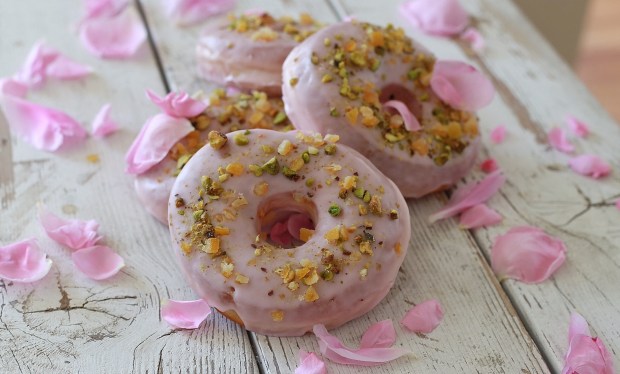 The big day happens to coincide with the Rose Festival, Portland's epic annual celebration of itself. In honor of National Donut Day and the Rose Festival, Portland's own Blue Star Donuts is selling the Rose Donut — a tart and citrusy delight with a rosé wine glaze.
That's not all. The delicious donutterie is donating 10% of all June 5th proceeds to The Dougy Center, which is dedicated to helping children and families cope with loss. Though donuts may not be great for your body, you can at least ensure that the money you spend on donuts goes to a wholesome cause.
Blue Star Donuts has four locations in the Portland area and one in Tokyo (because why not?).
Visit The Dougy Center's website to find out how to support grieving children and families.
(Photos courtesy of Blue Star Donuts and Carly Diaz)
Editors' Recommendations