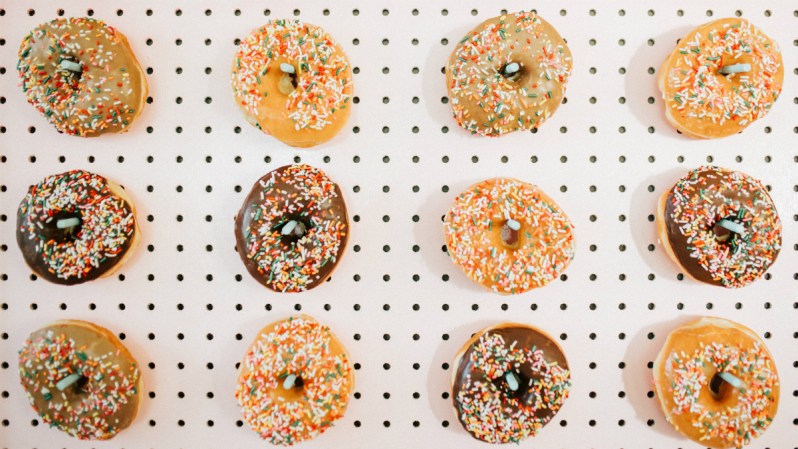 Pull up any calendar on the internet and you'll be inundated with holidays for foods and drinks (we've covered most of them—we're not above celebrating a made-up holiday if it gives us an excuse to eat or drink something on a given day). That's why it surprised us to learn that an upcoming holiday, National Donut Day (yes, spelled as such and not 'doughnut') is actually rooted in history.
National Donut Day—an ode to our favorite sweet and round breakfast item that is celebrated on the first Friday of June every year—was started in 1938 by the Salvation Army in Chicago as a way to honor the Salvation Army Donut Lassies (sometimes also referred to as the Donut Girls) who served up circular goodness to soldiers on the front lines of World War I.
According to the Salvation Army of Indiana, the Donut Lassies were started in 1917 when:
Helen Purviance, an ensign in the Salvation Army, was sent to France to work with the American First Division. Putting her Hoosier ingenuity to work, she and a fellow officer, Ensign Margaret Sheldon, patted the first dough into shape by hand, but soon employed an ordinary wine bottle as a rolling pin.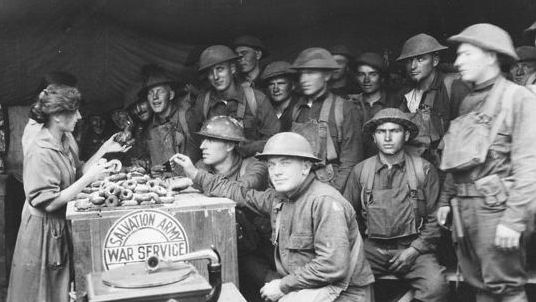 On their first day, the women made and served 150 donuts to eager doughboys. The next day, they doubled the amount, eventually serving between 2,500 and 9,000 treats per day. Other Lassies took up the cause, serving donuts elsewhere along the front lines. The donuts offered a small comfort to the soldiers—a comfort that continues through to this day.
(Yeah, we were surprised, too. We thought this was just dreamed up by Big Donut, but no.We have to admit, too, that this is more surprising than the historical roots of National Waffle Day.)
Today, the donut is used as a symbol of hope by the Salvation Army and a way to represent the aid the Salvation Army gives to over 23 million people every year.
This year, the Salvation Army will engage in a variety of National Donut Day activities across the country, including:
With the help of Entenmann's, The Salvation Army will host 40 "Do Good Donut Parties" across the country, serving free donuts to more than 8,500 veterans.
The Salvation Army in Denver, Colorado, in partnership with LaMar's Donuts, has put on a week-long scavenger hunt leading up to National Donut Day and will use an Emergency Disaster Services canteen, or "Emergency Donut Vehicle," to deliver free donuts to first responders on the day of, with the help of Donut Lassies.
In Los Angeles, The Salvation Army and BakeMark will host the second annual Donut Eating Championship at the iconic Hollywood landmark TCL Chinese Theatre on Hollywood Boulevard.
Continuing their annual celebration, The Salvation Army in Cincinnati, Ohio, will host an event in Fountain Square where free donuts will be provided by local donut shops.
In partnership with Disabled American Veterans, The Salvation Army in Honolulu will serve free donuts to veteran patients at Tripler Army Medical Center.
Lastly, both Krispy Kreme and Dunkin Donuts will be giving away free donuts all day on June 1 (details for each in their respective links). If you've got a local donut place as well, check with them as they might be getting in on the sweet action, too.
Editors' Recommendations