The stark sizzle of a 3-pound Tomahawk cut (a bone-in rib steak with the entire rib intact) hitting an open campfire is a sound I won't soon forget. It was one of many meat-filled highlights of the second annual Retreat 4 Roses – an invitation-only celebration in the Silver Falls State Park woods for 75 of Portland, Oregon's best bartenders.
Around 4:00 pm on a dreary Sunday afternoon, we all met up at cocktail hub Bit House Saloon to get acquainted and load onto a chartered school bus for the 90-minute drive to Silver Falls. As the sun set and the streetlights disappeared behind us, we pulled into the "new" cabin ranch inside the park – our glorious wooden home for the next 48 hours.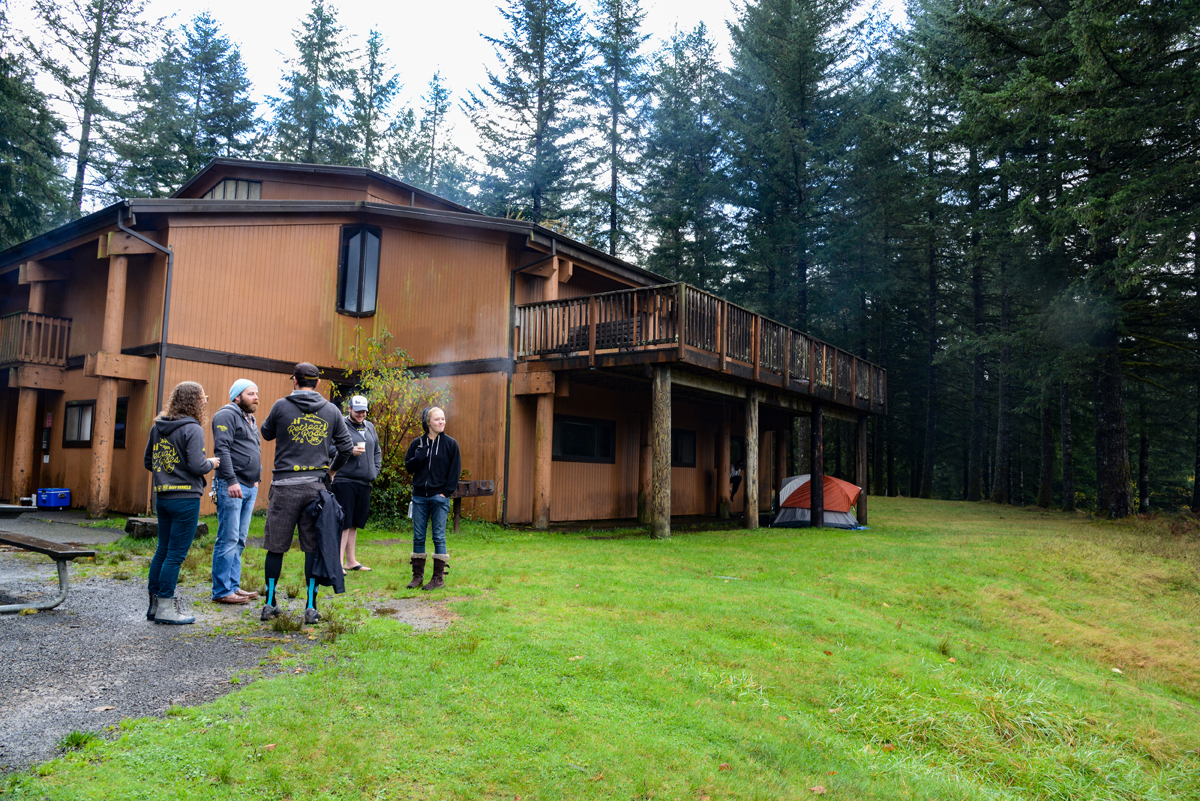 Centered on a concrete fire pit, the cabin has around 50 beds, a full kitchen and a certain level of charm only found in the wilderness with limited-to-no phone service. It's divided into four-bunk sections that provide a decent amount of privacy, considering there are no walls dividing the second floor sleeping area. I unrolled my new sleeping bag and set off to the pot roast dinner.
Food for the weekend was split-duty between Chef Jackie Ramsey of Culina in Los Angeles and Zeph Sheppard of Portland's Proletariat Butchery. Various attendees were their sous chefs – one of the event's better "volunteer" jobs.
It is common knowledge that you can't get a bunch of bartenders under one roof and not expect a cocktail competition –thus a loosely organized battle between 10 or so broke out shortly after dinner. With the level of talent on-site, every drink was great. Entries only required New Deal's luscious, licorice-y Cascadia D'Amore amaro as an ingredient and the winner would be announced the following evening.
As mixing glasses and bottles clanged, Los Angeles' Adventure Sleep was the perfect background soundtrack. The four-piece played rock-based 90s covers through the evening as the fire crackled behind them.
A beautiful thing happened around 11:00 pm when Sheppard suddenly appeared with a massive hind part of a cow. With his grandfather's hacksaw and knife in hand, he sawed off a chunk of the roast, fashioned a grate over the fire and grilled on the spot. Sheppard's lineage is riddled with old-school, utilitarian living and it's all transferred over to his no-frills cooking style. "Midnight Snack" doesn't even begin to describe the chef's mastery. There are few things better in life than enjoying the fruits of a professional butcher at the witching hour in the woods.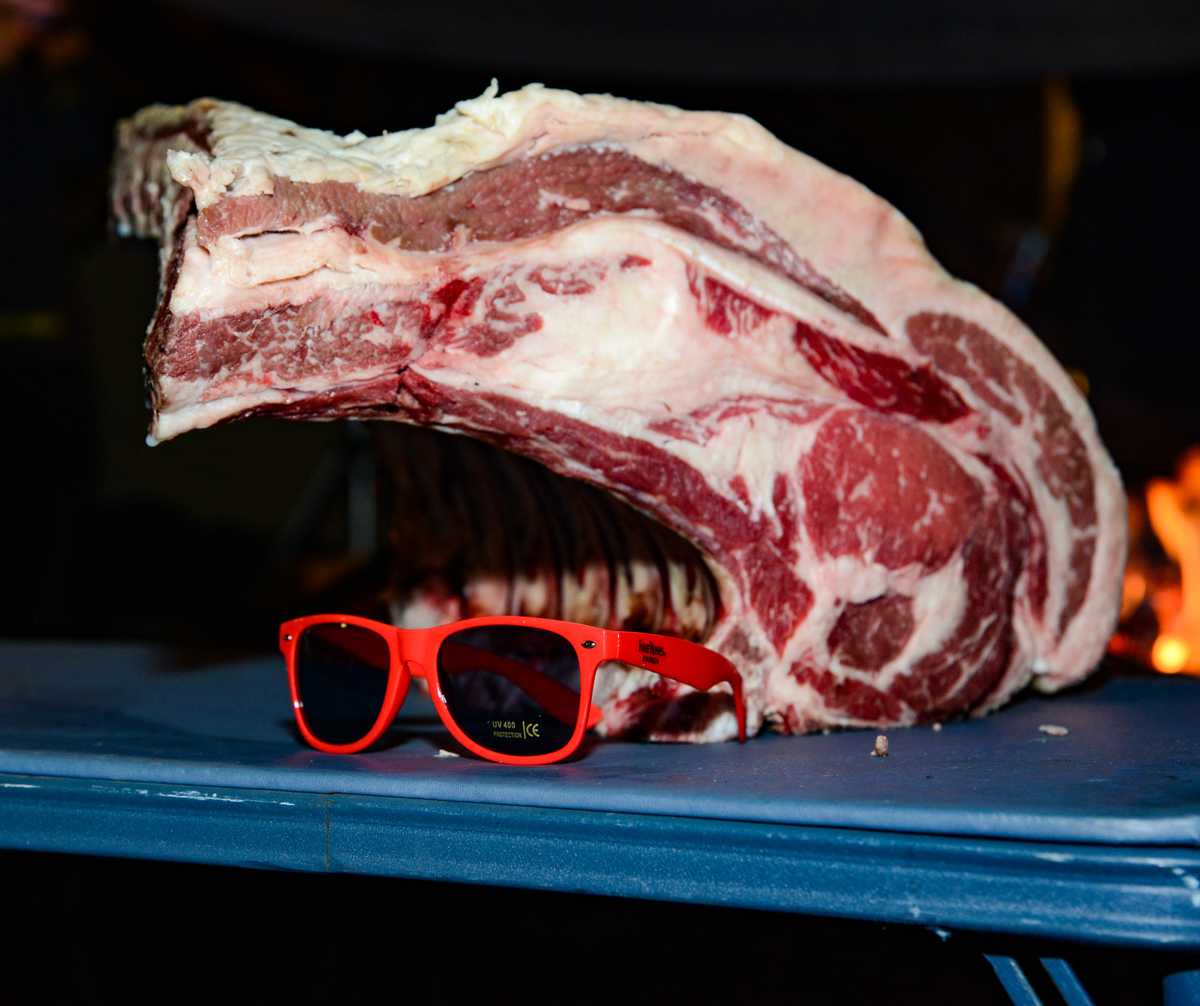 The next morning was a bit…slow…for just about everyone. However, my new bag provided a decent night's sleep (also my first time using a mummy bag – I'm a convert). Jugs of Bloody Marys plus cold brew from Portland Roasting Co. brought everyone back to life in time for morning activities. Instead of games and naptime, I chose to hike around the park (something I hadn't done in 10-15 years). A group of us loaded the van and went to the trail head.
Although Silver Falls is visited by more than one million annually, the park's 10 waterfalls and looping trails are still pristine and breathtaking. We chose to walk under, over and around six of them (with a few stops in-between for your intoxicant of choice). It was a great opportunity to get to know some of my fellow retreaters, including Ninkasi Brewing Co-Founder Jamie Floyd, who is as much of a rabid outdoors explorer as I am.
Five miles later and after avoiding most of the torrential downpours that sporadically drenched the weekend (classic Pacific Northwest weather), we headed back to the cabin for summer camp-style team competitions. My team, the Island of Misfits (creativity was encouraged), ended up with one win on the mini-whiskey-barrel roll course where I busted open my finger, but still managed to lead my cohorts to victory. Hail storm delays kept the competition from wrapping up until dinnertime.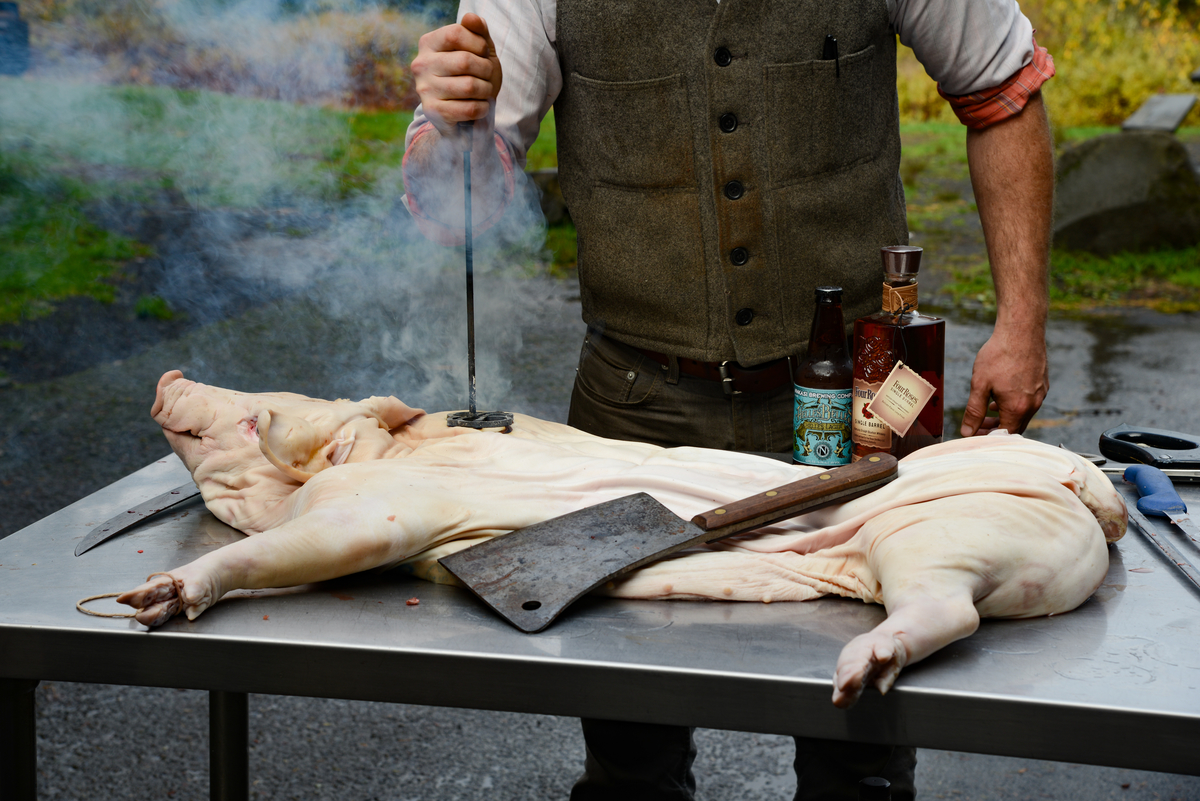 Throughout the day, Sheppard had prepared and set a halved pig on a coal-powered roaster, which doubled as a second campfire in sub-55° temperatures. While helping him set up a rotisserie for whole chickens that were about to undergo a similar coal therapy, he explained to me his butchering background and the pride of cooking in a relatively unchanged way – all while cramming all of his supplies in a 1993 Range Rover.
Six years into his craft, Sheppard has essentially mastered the art of the slow roast. There's nothing fancy about his style: he halved the pig and chickens, dusted with salt and pepper, then let the coals do most of the flavoring. Dinner was a gorge-fest of chicken, pork, and beef perfectly seasoned and weathered to match the climate and feel of the weekend. It was a proper final meal around a roaring campfire, never mind the partially drenched clothes.
As Adventure Sleep wrapped up their final song, the winner of the cocktail competition was announced: Bible Club's Jessica Braasch and her fantastic "Mountain Rose Fix" – a bonfire sipper combination of gin, ginger liqueur, cardamom bitters, lemon and the aforementioned amaro. The gentle click of Scrabble and the swoosh of poker cards followed in the cabin and it was an early night for this reporter as I drifted off before midnight.
Maybe the most impressive feat of the retreat happened the next morning. A group of 50+ groggy, tired, and overindulged bartenders cleaned up the cabin in a little over an hour. From trashed to spotless in less than 90 minutes. It was a testament to the camaraderie built over the weekend. The Retreat 4 Roses is part of the growing shift towards intimate events where small, meaningful experiences take precedence over social media impressions and brand metrics. It further strengthens the local bar community, makes everyone's drinks better and I hope I get another invite next year to hear that fire crackling once again.
Waterfall photo by Geoff Nudelman, all other photos by Jason Horvath.