If you've always wanted to buy a Keurig because you think the single-serve, pod-based coffee system is extremely convenient, this year's early Black Friday sales are giving you the chance to get one for $100 or below. Keurig is known for making some of the best coffee makers in the market, so you can be sure that these offers won't last too long — in fact, they may not even make it to the shopping holiday. If you want this opportunity at huge savings slip through your fingers, you're going to have to complete your purchase as soon as possible.
Keurig K-Compact — $50, was $100
The Keurig K-Compact is the perfect coffee maker for one person. It only takes minutes to brew cup sizes of 6 ounces, 8 ounces, and 10 ounces, and it can make multiple cups before you need to refill its 36-ounce water reservoir. Just insert the pod and choose your cup size, and your beverage will be ready in no time. The coffee maker automatically turns off after two hours to save energy, and it comes with a removable drop tray that can hold a full brew in case you accidentally press the button without having a cup ready.
Keurig K-Slim — $70, was $130
If you want to be able to fit your coffee maker in a narrow space on your table or kitchen counter, you can go for the Keurig K-Slim, which only measures 5 inches wide but comes with a water reservoir that can hold 46 ounces. The K-Slim can brew cup sizes of 8 ounces, 10 ounces, and 12 ounces, and it also comes with a removable drip tray that can hold a full accidental brew. Its auto-off feature kicks in after 5 minutes from your last brew, and it's compatible with Keurig's My K-Cup Universal Coffee Filter if you want to brew using ground coffee.
Keurig K-Classic — $100, was $150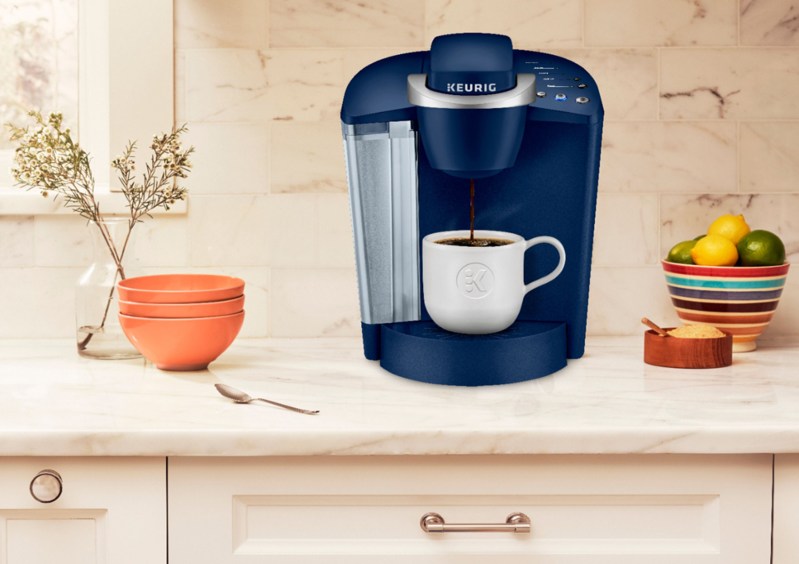 The Keurig K-Classic remains in our list of the best Keurig coffee makers because this is where it all began. It comes with a 48-ounce water reservoir, the option to brew cup sizes of 6 ounces, 8 ounces, and 10 ounces, and a an auto-off feature that activates after the coffee maker stays idle for two hours. Controls are simple — insert your pod, select the cup size, and prepare to enjoy your coffee after just minutes.
Editors' Recommendations