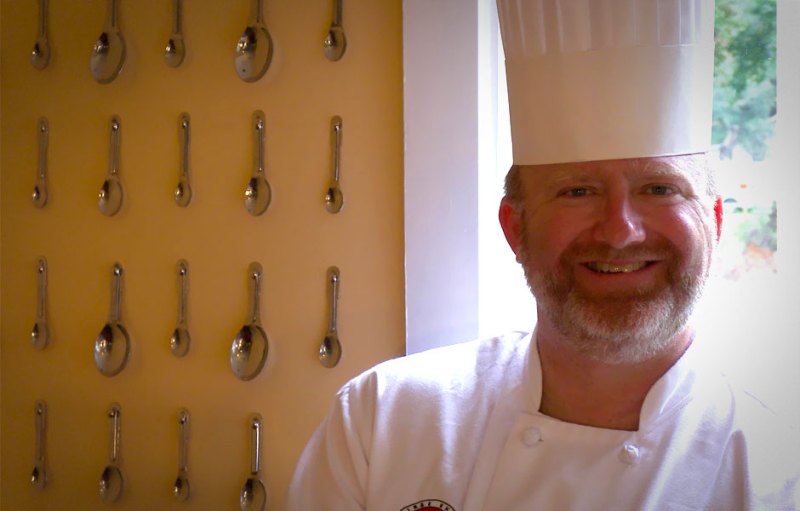 In our third and final installment on farming we speak to Fred Neuville from Charleston's The Fat Hen restaurant about how to cook heritage breed meat.
Growing up in Roanoke, Virginia, his father sat him down at the ripe old age of 16 and asked him what he wanted to do with his life. "If you don't do something after high school then I'm not going to take care of your education," he told Fred. So he headed to the Culinary School of America in New York, graduated at 19 and was an executive chef at 20. Not bad!
Neuville began his career at Linwood's in Baltimore and then honed his skills at The Willard in Washington DC. He ended up in Colorado where he met his wife and they were both pining for the 'right' coast so they moved down to Folly Beach, South Carolina and have been here for 15 years. He worked all around Charleston and in 2007 he and his wife bought their own place on John's Island, named it the Fat Hen and have been winning over locals and tourists ever since.
When it comes to the 'Farm to Table' conversation, Fred kind of chuckles. "I've been doing farm to table before there was a word for it. In Baltimore I had farmers and fisherman drive up and I would buy off their pick up trucks." he told us. "When I was in Richmond, the farmers market was across the street (back in 1986) so I got to know all the farmers and they   shut down on Sunday so I would get deals on Saturdays."
Neuville never thought of not buying this way as he told us, "You know where it is from, it's fresh, it has a longer shelf life and that translated to Fat Hen. I have the pleasure of working with all the farmers that work and live on Wadmalaw and Johns Island. We are in the bread basket of the Lowcountry.
When cooking farm raised animals there are definitely plus and minuses. Below Chef Fred breaks it down by animal:
Chicken:
The chickens we get from Keegan Filion Farm are delightfully steroid free but they don't have a high fat content so they need to be brined in order to keep them juicy.
Fred attempted to raise his own chickens at one point. He had 350 birds and it was a total disaster! "It was a heritage breed called Delaware chickens and boy they were tough! So I had to cure them and confit them. They were tough and dry. People enjoyed them because we cooked them in duck fat though," Neuville laughs.
Fred's tip for chicken?
-You need to go an extra step with them. Brining them or cooking them in olive oil or submerged in a fat and cooking them slow makes them taste excellent!
Beef: 
As for heritage beef, he works with Legare farms which has been raising cattle since 1725. When they process a cow the cuts of meat are smaller;  the cows aren't as big since they are grass and corn fed. The taste and texture is phenomenal.
Heritage beef can be cooked just like normal beef; the marbling isn't as high since they are leaner and they are processed at a younger age. All of Legare's beef is grass fed and called naked beef out of a co-op in Georgia. They process  cows 900 lbs and down.
Pork:
Fred has worked with a variety breeds. Currently he gets Chester White's that originated in Pennsylvania. They are white pigs and have great marbeling without being over fatty. Tamsworth is another excellent breed because of it's high fat content. If they are eating nuts and acorns they have a wonderful nutty flavor. Berkshire, like Tamsworth is fatty and perfect for charcuterie. Red Waddle is a leaner pig and perfect for brining and grilling.
Turkey:
Chef Fred has found personally that organic and free range just aren't that great. They are very lean and tend to be on the tougher side so you have to brine and or fry them. "I have to say I do Butterball for Thanksgiving!" he confesses.
Below Fred has offered up one of his famous recipes from The Fat Hen. Cook it up and send us a photo on @TheManualStyle on Instagram.
Coq Au Vin Recipe from The Fat Hen:
Brine for chicken: 3.5 gallons
3 yellow onions (chopped)
3 carrots (chopped)
3 ribs of celery (chopped)
25  Bay leaves
½ cup chopped garlic
½ cup chopped shallots
½ cup chopped fresh thyme
1 tbls cinnamon
1 tbls allspice
10 cloves
4 cups sugar
2.5 cups Kosher salt
8 cups red wine
2 gallons hot water
1.5 gallons ice
Mix sugar, salt and red wine add hot water and whisk to dissolve the sugar and salt add rest off dry ingredients then add ice. Let ice melt. When ice has melted you can use the brine.
For the Chicken:
5  Chickens
2  yellow onions (medium and chopped)
3 carrots (rough chopped)
3 ribs of celery (rough chopped)
10 cloves fresh garlic
Sachet Bag of 20  black peppercorns, ½ bunch fresh thyme,1 bunch parsley stems, 4 bay leaves
½ gallon red wine (cooking wine)
2 gallons chicken stock or store bought broth
S&P to taste
1 cup tomato paste
48 oz canned tomato strips
3 oz olive oil
Separate the chicken breast from the leg and thigh. You should have four pieces from each chicken
Cover the chicken with your brine for two days
Pat the chicken dry season with salt and pepper.
In a rondeau or deep sauté pan place your olive oil and get it hot (to the smoking point).
Sear your chicken quarters off and place in a deep pan and set aside. The better the sear or color the better the flavor.
Add your chopped vegetables (mire poix- chopped celery, onions and carrots ) and whole garlic to the hot pan that you have sautéed your chicken in and cook for a minute.
Add tomato paste and cook for 1 minute stirring constantly, add red wine and reduce by ½ then add canned tomatoes, cook for 1 minute then add chicken stock. Bring to a boil, cover chicken with liquid.
Then cover pan with saran wrap and aluminum foil put in a 250 degree pre-heated oven and cook for 1 ½ hours. Make sure the chicken is tender. Uncover and let cool in liquid.
After the chicken is cooled down. Remove the chicken and take out the rib bones of the breasts. Reduce the sauce by 1/4 , pour over the chicken and re-heat when needed.
Put the chicken in a bowl and finish the sauce with 2 table spoons of whole butter and pour 2oz of sauce over chicken.  Garnish with chopped bacon, mushrooms and haricot verts, top with chopped parsley.
Editors' Recommendations