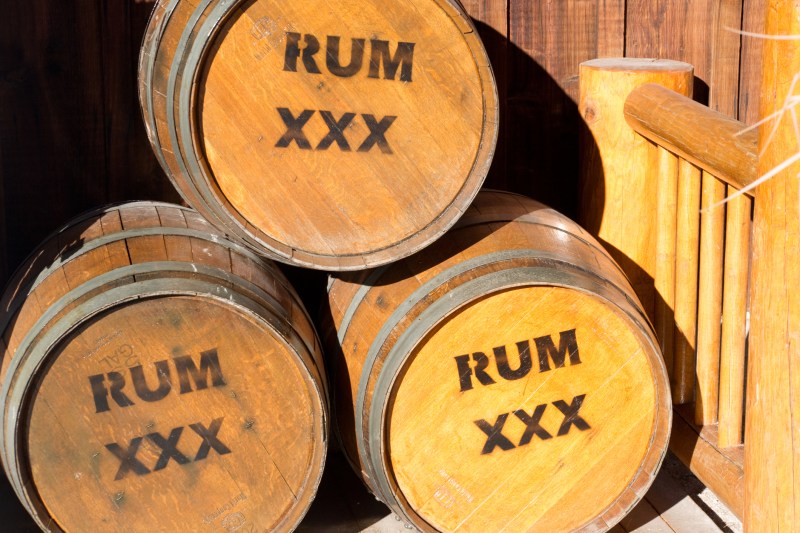 Ahoy, Mateys!  September 19th marks the 14th annual Talk Like a Pirate Day and because of that, it's time to hoist the Jolly Roger and sail toward some good cocktails. Whether you feel like engaging in some swashbuckling while watching Monday Night Football or just firing off some broadsides, we've got you covered with the official drink of pirates–rum.
These rum cocktails aren't for landlubbers, but with a little bit of dead reckoning (and a good amount of rum) you'll be ready to shiver some timbers in no time.
Mutineer
1 .5 oz Captain Morgan Spiced Rum
3/4 oz Fresh Lime Juice
3/4 oz Simple Syrup
5 Raspberries
3 Dashes Bitters
Bottom: 2 oz Cola
Method: In a shaker, combine all the ingredients but the cola.  Shake and strain into a rocks glass with cola. Garnish with a lime wedge.
Oak and Ginger
Method: Build over ice.
Meehan's Black Flip
(Created by Jim Meehan New York, NY)
Method: Combine ingredients in a mixing glass and swirl to decarbonate beer. Dry shake. Add ice and shake again, then strain into a chilled fizz glass. Garnish foamy top with grated nutmeg.
Related: 8 Essential Cocktails For National Rum Day
1934
Method: Stir all ingredients vigorously with plenty ice until very cold, strain into a rocks glass with an ice sphere. Garnish with an orange peel.
Noche Española   
1/2 oz Amontillado sherry
1/2 oz lime
1/2 oz brown sugar simple syrup
Method: Place ingredients in order listed in a cocktail shaker over ice. Shake and serve in a martini glass or coupe.
And just in case you're not sure how to talk like a pirate, here are some pick-up lines from the official Talk Like A Pirate Day website:
Avast, me proud beauty! Wanna know why my Roger is so Jolly?
Pardon me, but would ya mind if I fired me cannon through your porthole?
Prepare to be boarded.
Editors' Recommendations