A new sports drink has stormed onto the scene.
BodyArmor made its presence well known the past month with its sponsorship of the NCAA Men's Basketball Tournament and a commercial featuring Los Angeles Angel Mike Trout and Indianapolis Colt Andrew Luck.
It's been a relatively quick road to prominence for BodyArmor, which — while it launched in late 2011 as a "premium, better for you sports drink" — truly rose in prominence after Coca Cola acquired a minority stake in the company last year. The acquisition made Coca Cola the second-largest stakeholder in the sports drink company and gave Coca Cola a sports drink to position as a premium brand above its other sports drink, Powerade.
"It accelerated our growth and explosive consumer demand," said Michael Fedele, BodyArmor vice president of marketing. "As a part of that, Coca Cola gained our distribution rights, so we're on the big red trucks and beyond that, work on our marketing side."
The marketing side for BodyArmor, in its role as "official sports drink," includes the UFC and 90 (yes, 90) NCAA championships, like the men's basketball tournament and Frozen Four. The association with the NCAA provides the brand with an entry to many amateur athletes.
Fedele said BodyArmor is taking advantage of a relatively stagnant sports drink segment.
"Athletes have evolved, sports have evolved, and technology has evolved," he said. "When you think about the sports drinks that [were] out there until BodyArmor came, there was no real innovation in sports drinks. It's the same old neon artificial colors, high sodium beverages. So we introduced a more progressive, better-for-you option."
Fedele highlighted that the drinks are made with natural flavors and sweeteners, use potassium electrolytes instead of sodium, and are made with 10-percent coconut water. The beverages are also packed with vitamins, including 200-percent of daily requirements of Vitamin C.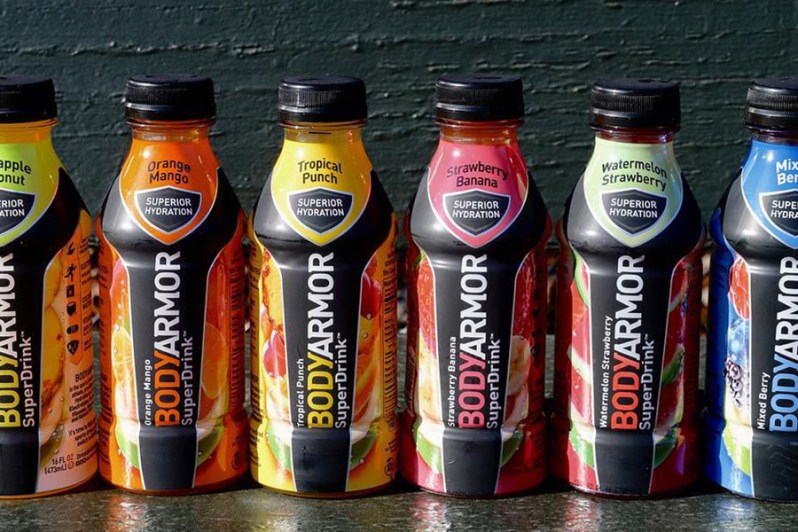 While not a colorful line of drinks, BodyArmor comes in 11 flavors including Knockout Punch, Mixed Berry, Pineapple Coconut, and Orange Mango. BodyArmor Lyte comes in five flavors, including Coconut and Blueberry Pomegranate.
Along with Trout and Luck, there's a whole stable of prime athletes, like the Houston Rockets guard James Harden, Mookie Betts of the Boston Red Sox , and U.S. women's soccer star Megan Rapinoe.
"We want to leverage our athlete partners," Fedele said. "Athletes today care about what they're putting in their bodies and deserve a better sports drink. Athletes shouldn't be forced to drink the drink their fathers drank."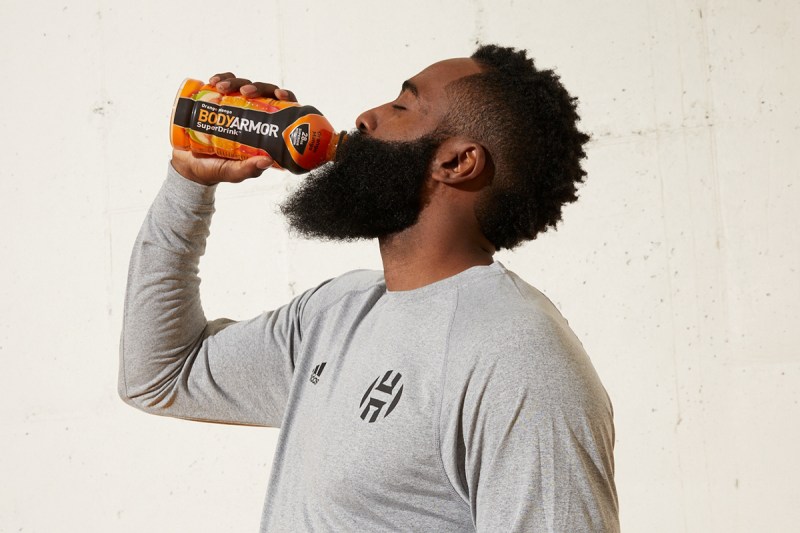 While Coca Cola currently has a path toward full ownership in the future, Fedele said the BodyArmor team is focused on the bright opportunities that lie ahead. Prior to the brand, few entries into the segment ever pushed the big brands like Gatorade and Powerade in market share. BodyArmor, however, has experienced five straight years of triple-digit growth. The brand achieved success by innovating and will continue to innovate.
"No one [other than the big two] has ever been 1 percent share," Fedele said. "We're pushing 10 percent with a hot summer coming. We couldn't be more excited about the opportunity ahead of us."