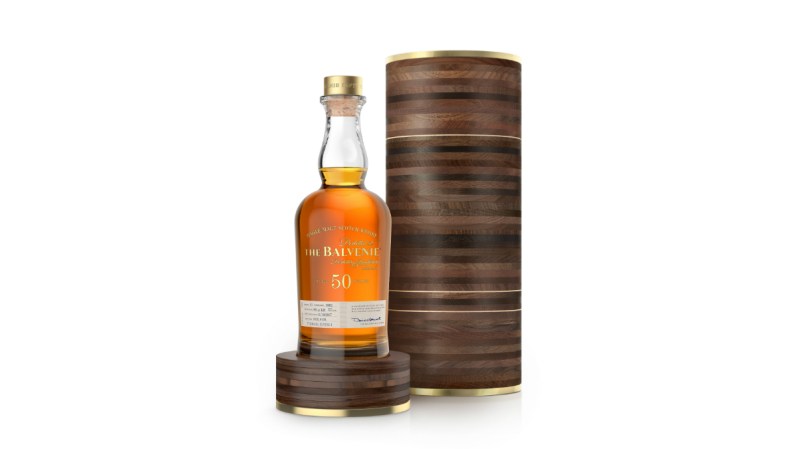 The Balvenie has released its latest 50-year-old Scotch whisky and it's safe to say we're drooling over here. Why wouldn't we? The Balvenie was part of one of our favorite pairing meals ever.
The Balvenie Fifty: Marriage 0962 — which will cost you a mere $38,000 per bottle — was sourced from four American Oak casks that were all aged at least 50 years. The liquids were then married (an act which takes a great amount of skill considering the age of the whisky) by Malt Master David C. Stewart MBE.
"Marrying aged whisky stocks is undoubtedly one of the most challenging, yet enjoyable facets of my role as The Balvenie malt master. This was a chance to explore the furthest reaches of our precious aged stocks and see how their extremes could be controlled and combined. Despite enjoying more than 55 years in the business, I'm still discovering and learning new things about the science and art of whisky making. The creation of Marriage 0962 took months of patience to complete, as we're dealing with liquids with extremes in ABV, taste, and age. It's not every day I get the opportunity to work with liquids of such age, so it was a huge pleasure to be able to share it with the world today," Stewart said in a statement.
The name of the new whisky, Marriage 0962, is an allusion to the month and year that Stewart started with William Grant & Sons. The whisky was bottled at 41.6 percent ABV and combines malt and oak flavors with brown sugar, toffee, and ground ginger on the nose. The palate is rich with more oak notes, maple syrup, tangy citrus, and classic honeyed Balvenie sweetness. The finish is long and lingering with dried fruits, vanilla, oak, and spice notes.
While rare, it is not the first time that The Balvenie has released a 50-year-old expression. First, there was the 1937 (bottled in 1987), which was also sourced from four casks. Then, in 2002, The Balvenie Fifty was taken from Cask 191 (the last cask remaining from the 1950s), producing only 83 bottles. The 2012 release, taken from a 1962 European oak sherry hogshead, was released in honor of Malt Master David C. Stewart MBE's fiftieth year with William Grant & Sons. Only 88 bottles of the whisky made it to market. Two years later, The Balvenie released twin identical casks from 1963, which actually ended up having quite different profiles.
Each bottle of the release is packaged as exquisitely as the liquid inside. The wooden tube that the bottle comes in is made of 50 layers (48 walnut, two brass) and was handcrafted by Sam Chinnery at his workshop on Bruntlands Farm near Elgin, Scotland. Not only that, but the bottle also comes with an etched brass certificate and bottle glorifier that is inscribed with the tasting notes of each cask as well as the notes on the final marriage. The decanters (a redesign of the classic bottle shape) were hand-blown by Brodie Nairn and his team of expert craftsmen at Glasstorm, based in Tain, Scotland.
Can't afford this bottle? (Honestly, who can?) Check out these bottles of Scotch all under $50.
Editors' Recommendations