The first time I heard of Teeling it was totally unfamiliar to me. Shame on me for not knowing a great Irish whiskey. Then I started asking around and few others had heard of them either. Digging deeper I learned that they only launched two years ago. Yet they have a big, beautiful bustling distillery in Dublin and upon tasting all three of their signature blends I could see the reason for all of the awards already listed on their site. To learn more, I took a trip to Dublin to get more information about the brand, the whiskey and its' culture. This isn't your typical "ye ole man with a pipe" whiskey, my friends. Teeling is 'fixie bikes, farm to fork and loads of fun and friends' whiskey. Which is right where we roll.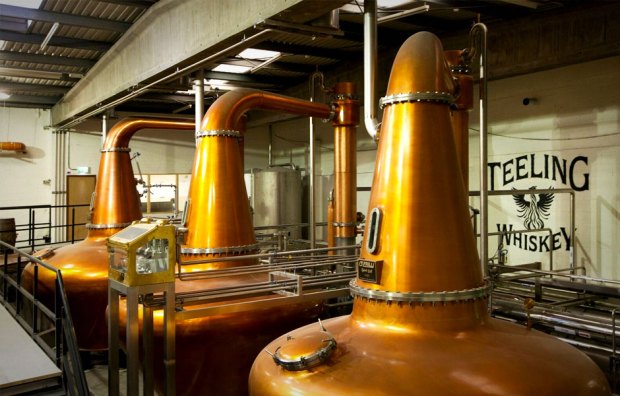 A Bit of History
Dublin was the capital of the Irish whiskey world in the 19th century. At one point there were 37 different distilleries in Dublin and many were snuggled into The Liberties area of Dublin where Teeling's distillery is now located.
Three events destroyed the Irish whiskey world:
Prohibition – self explanatory as this silly era in United States history decimated numerous spirit brands around the world.
The Irish Uprising- When Ireland demanded independence from England, the English halted all imports from Ireland and Irish whiskey stopped being served in England and all of its colonies.
The Column still – This new invention in 1830 made whiskey distilling faster and easier yet the Irish thought it was a one trick pony and kept to their pot still process. Meanwhile, the Scottish and others took to the column with gusto and increased their distilling greatly.
By the late 20th century the number of Dublin distilleries had shrunk and the last closed in 1976. Where are all of those Jamesons, Bushmills and Powers made? Not in Dublin. Jameson and Powers are in Cork and Bushmills is in Northern Ireland (which is part of the U.K.). Therefore folks, Teeling opening up in Dublin is a Really. Big. Deal. They are the first new distillery in Dublin for 125 years. Put that in your glass and shoot it.
Who are the Teelings?
The Teeling family has been in the whiskey business on and off for over 230 years. In 1782 Walter Teeling had a distillery on Marrowbone Lane in The Liberties of Dublin. At this time there were over 37 different distilleries in Dublin alone in particular centralized in the industrial engine room of the city: The Liberties; the Coombe, Newmarket and Smithfield. Fast forward to 1987 when the boys' father, John Teeling bought Cooley Distillery. His sons Jack and Stephen leaped into the family business and Jack became managing director of Cooley until it was purchased by Jim Beam in 2012. During Jack's tenure at Cooley it won over 100 international awards for its whiskey including IWSC World Distiller of the Year and European Distiller of the Year five times.
The Teeling Whiskey Company was founded by Jack in 2012 to bring back an independent voice to the Irish whiskey category. The Teeling Whiskey Company has quickly become Ireland's leading independent Irish whiskey maker. It drives category choice and innovation through a selection of unique handcrafted small batch Irish whiskeys, which have been honored with over 40 International Awards in a short period of time including two top honors at the 2014 WWA.
Jack's brother Stephen is at the helm of the Sales & Marketing of the company. He also cut his teeth at Cooley before joining his brother to launch their own brand. But enough with the facts. Spending time with these boys was a total laugh. They are in their late 30s, well travelled and expert hosts. No pretention here, just great guys behind a phenomenal brand. Believe us when we say it is refreshing to meet them. We have spent many an evening with whiskey aficionados who prefer gold chains with very big watches and very few manners. Besides the brothers, the entire company is stocked with quality folks including Kevin Hurley their brand ambassador and their Master Distiller, Alex Chasko who actually hails from Portland, Oregon and got his start in the craft brew world.
What makes them different you ask? We will be posting a whiskey a day for the next three days for you to get a better understanding of the brand and their tastes. For now, welcome to the inner circle. You know now about the whiskey that is changing the tides of the spirit world and winning over fans from Dublin to Detroit.
If you are looking for an Irish whiskey to enjoy for Saint Patrick's Day, look no further.
Editors' Recommendations