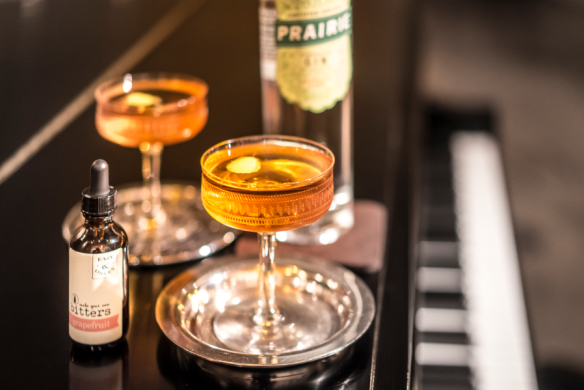 When all the candles are lit and the stockings are hung, it's time to kick back with your loved ones and some cocktails and enjoy the holiday season. We've collected some of the best drinks around to celebrate the season, wherever you are.
Basil Hayden's Shining Light Spice
(Created by Kathryn Weatherup, Austin, TX)
Method: Add all ingredients to a cocktail shaker with ice. Shake vigorously and strain into a chilled coupe. Garnish with a fresh twist of lemon.
Holiday Rye Martini
Method: Combine Belvedere, vermouth and spices in mixing glass with ice. Stir for 25 seconds and strain in to a chilled glass. Garnish with the same spices that were stirred and twist with an orange peel and discard.
Merry Cherry 
Method: Muddle cherries in a mixing glass before adding all the other ingredients. Shake well and strain into an ice filled rocks glass; top with soda water. Garnish: Sprig of mint and single cherry
Fennel 75
(Created by Matt Grippo of Blackbird, San Francisco)
Method: Combine Tequila Don Julio Blanco, fennel liqueur, lime juice, raw honey syrup and orange bitters in a cocktail shaker with ice. Shake well. Finely strain contents into a flute over ice. Top with sparkling wine. Garnish with fennel frond.
Related: The Only Whisk(e)y Guide You'll Need This Holiday Season
Bacardí Party Punch
Method: In a large container, combine rum and fruit juices. Chill. Just before serving, pour into large punch bowl. Add ice and gently stir in chilled ginger ale. Garnish by floating orange, lemon and lime slices on top.
Hendrick's Garden Elixir
(Created at the Driftwood Room, Miami)

Method: Muddle, Shake and Double Strain. Serve in martini glass. Garnish with a half-tomato and basil leaf
The Humboldt
(Created by Erik Eastman)
Method: Stir gin, vermouth, pear liqueur and bitters over clean ice for at least 30 seconds.  Strain into a champagne flute or coupe glass.  Top with 2 or 3 ounces of the sparkling wine.  To garnish, with a sharp knife remove a coin size piece of lemon peel from a fresh organic lemon, and squeeze the oils from the lemon twist onto the surface of the drink. Add the twist to the drink and enjoy!
Editors' Recommendations