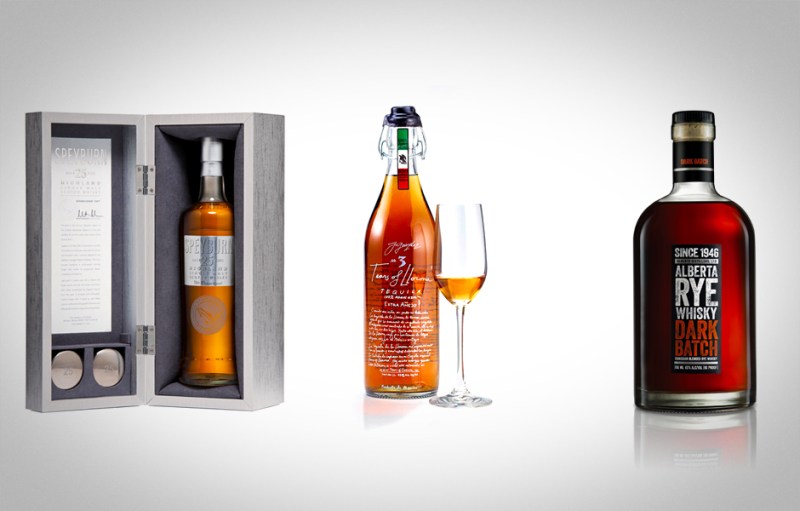 Dads across the country work hard every day and how do we normally repay them for their blood, sweat, and tears? With ties, objects that remind them of work. This Father's Day, throw your dad the best, booziest curveball ever by giving him something he'll really enjoy—booze!
Related: How to set up an intoxicating home bar
Not sure what Dad's poison is? Try one of these liquors and spend the day making cocktails together. It'll sure beat catch out in the backyard.
Alberta Rye Whiskey Dark Batch ($30)—Made with of 91% rye, 8% bourbon and 1% sherry, this Canadian spirit will unlock your dad's inner Mountie.
U'luvka Vodka ($60)— U'luvka is Polish for "legless," which dates back to the days of kings and their vodka-swilling ways. This premium vodka, aside from coming in one of the coolest bottles this side of the Atlantic, is the perfect sipping vodka for the clear-spirited Dad.
Facundo Exquisito Rum ($120) — This sipping rum will have your papa feeling like Papa Hemingway in no time. Bonus points if he's got a bushy white beard and the will to go fishing in the Keys.
These next few are Dad-of-the-Year Spirits. Or, they could also just as easily be "I crashed your midlife crisis Camaro and I'm sorry" spirits. Either way, these premium liquors will make you the favorite, hands down.
Tears of Llorona Tequila ($225)— This has been called the "Pappy Van Winkle" of tequila. Give Dad some and he'll surely be the first to agree, before asking you kindly to leave so he can spend time with his new favorite child.
Speyburn Highland 25-year-old Single Malt Scotch Whisky ($315)—With hints of toffee, vanilla and oak, this single malt is a masterpiece. It's the kind of scotch that will make Dad forget all those disappointing tee ball games.
Old Pulteney 35-year-old Single Malt Scotch Whisky ($740)—What can you really say about a Scotch with this price tag? It will, hands down, be the smoothest thing Dad will have ever sipped. This is the kind of scotch that you'd give if you're about to tell Pops that the family name is going to end with you and not the kids you're not going to have.
Editors' Recommendations