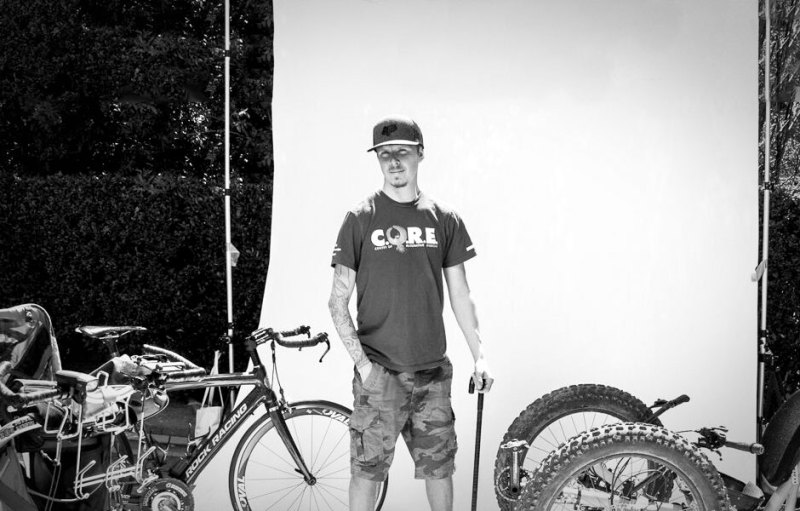 Today we meet the amazing and inspirational Aaron Baker.
Carmel, California is an unlikely place to find the sport of motocross. Despite growing up the in the artistic, sea-side community, unrestricted and privileged with diverse culture, family travel, Big Sur backpacking trips, epic mountain biking and legendary local surf, my youthful attention was fixated on a dirt-bike, motorcycle. My passion for the sport took me around the country, winning all of the most prestigious amateur events, ultimately earning me a professional contract in January 1999. The world as I knew it, was firmly in my grip (handlebars) until one fateful day in May, when I experienced a career ending, training accident which left me a Quadriplegic – paralyzed from the chin down.
From the moment I hit the ground, and after having a very near death experience, my life has been focused on personal and professional progression… Moving forward.
My new life began when after two months I started to flicker my left big toe. I have consistently rebuilt my body (like legos) one proverbial brick at a time, month after month, year after year, consciously connecting and twitching every single muscle fiber in my body, until ultimately I regained the ability to sit up, stand and walk, with a single point cane.
After sixteen years I have amassed many recovery milestones like; pedaling a bicycle (under my own power) across the United States, twice! Racing a bicycle for the U.S. Paralympic Cycling team, winning a National Road-Cycling Championship and walking across the infamous Death Valley desert.
These athletic goals have enabled me to stay focused and on target day to day, and in a nutshell, by applying five fundamentals, I manage and maintain balance in my life. – Awareness, Gratitude, Action, Nature and Nurture.
I wake up with awareness and mindfully begin my day with gratitude, a mantra I repeat for my body, my family and all that is. I like to take action by pursuing short-term, long-term and ultimate goals. I prefer to take action in nature, conscious and aware, I enjoy the connection to this living and life-giving earth. And by nurturing myself, I am strong enough to nurture others… Which leads me to how and what I do today.
My day job is an entrepreneurial venture, my mother, Laquita Dian, exercise physiologist, Taylor Isaacs and I co-founded called C.O.R.E. (Center of Restorative Exercise). C.O.R.E. Centers LLC. Is a niche' health and wellness, fitness and performance facility that bridges the gap between traditional (insurance subsidized) physical therapy, and general fitness clubs. C.O.R.E. serves the 1 in 5 Americans that live with some form of disabling condition.
When I'm not in C.O.R.E. working on my recovery, or behind the desk in the office, you'll find me outdoors using any one of my custom-built, adventure vehicles, that allow me to pedal backcountry roads, race down steep, mountain trails, or wander and camp across wild lands.
Currently, I am a proud ambassador for Red Bull and the Wings For Life (spinal cord injury) organization. This May 8th, 34 countries around the world, will simultaneously run together in a unique (catcher car format) fundraising event called the Wings for Life #WorldRun. 100% of the registration fee goes towards Spinal Cord Injury research. Visit wingsforlifeworldrun.com, sign up, join my team (COREcenters) and together we'll run, walk, or roll to find a cure for paralysis.
My personal style:
For the past 20 years I have had tremendous sponsorship/product support from Fox Racing Inc. Needless to say 80% of my wardrobe is styled by Fox apparel.
Jeans: My denim collection mainly consists of Fox – T Rex Jeans, Levi 511 – slim, or Rock & Republic.
Shirts: I mostly wear C.O.R.E. Concert tees or Fox premium blend, or I'll dress it up with a charcoal grey, button down.
Pants/Shorts: Fox – Dagger pant/short – vintage black, grey, green or plum.
Suits: I don't always wear suits, but when I do, I wear Hugo Boss (RED line)
Shoes: I'm a sucker for slippers… They go well with a cane. Toms, Aldo or DVS; I have them all. I don't go into the outdoors without my OBOZ boots and I always keep a pair of Fox – Motion Elite, running shoes with me… Even though I don't run (yet).
Accessories: I always keep a Fox Head snapback and winter knit, homeless beanie close by, and when I don't check my phone for time, I wear my NOVO – Aaron Baker limited edition time piece, and I don't wear jewelry, I wear tattoos.
Outerwear: I love my Fox – vintage leather, moto jacket, my Marmot – Ama Dablam, 800 fill power down parka, and my Mountain Tools – Gore-tex light weight shell… All do a great job at keeping me hot.
Favorite Cologne: Salvatore Ferragamo + pheromones = lucky
Your favorite App: Instagram, hands down
Favorite piece of technology: iPhone 6 plus – Go Pro Hero 4 black integration
Next tech purchase: 360Fly camera