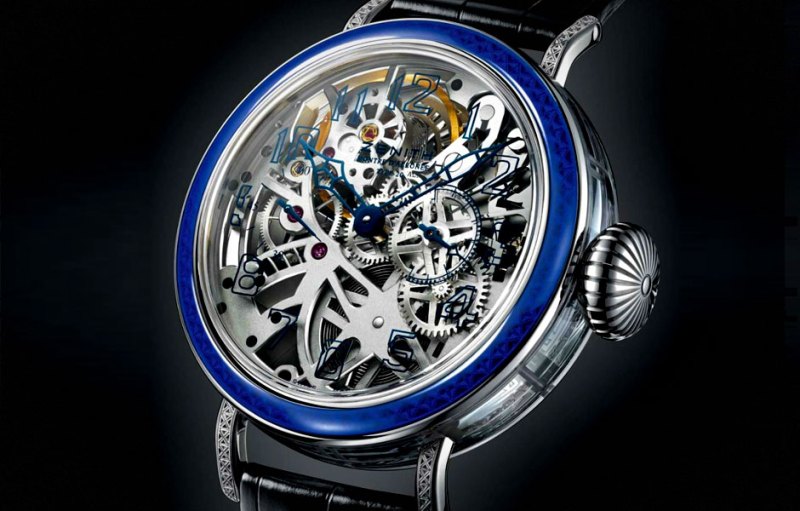 It is often forgotten that watchmaking is not just about practical engineering, but also about ornately showing off. High end watch brands love this aspect of the business. Creating six and seven figure timepieces handcrafted and jeweled for the very few adds to the fun of the watch world. Zenith is a modest brand known for its movement manufacturing; primarily the El Primero Chronograph movement. Out of this LVMH owned manufacturer comes a piece that is ornate and outrageous in both size and detail.
At 60mm in diameter, the Zenith Pilot Type 20 Squelette is not your average Pilot. The case is made of sapphire crystal displaying the movement not only through the skeletonize dial and exhibition back, but through the sides of the case as well. Where there is metal there is hand-crafted design. The lugs, hand chased, are made of white gold attaching the black crocodile strap to this behemoth piece of horological jewelry. The crown is of white gold as well. Taking this piece beyond sapphire and gold is the white blue enamel bezel. This hand-crafted bezel makes for good contrast with the applied blue arabic numerals on the dial and the blued white gold hands.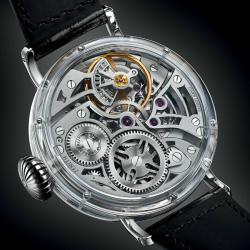 From head on, this piece might appear to be your average oversized skeleton piece with ornate detail. Once turned around, the sapphire case is what makes this piece even more special creating a full display of the Zenith Caliber 5011k movement. Based off a pocket watch movement, this 48 hout power reserve manual wind is the perfect fit for this massive watch. Shockingly water resistant to 30 meters, you can even take an unplanned dip.
Only 5 pieces of this extremely unique timepiece will be produced. Like a concept car to an automobile brand, this piece will hopefully foreshadow some of what is to come for later production Zeniths. In five years hopefully a sapphire crystal case will be in all of our collections.