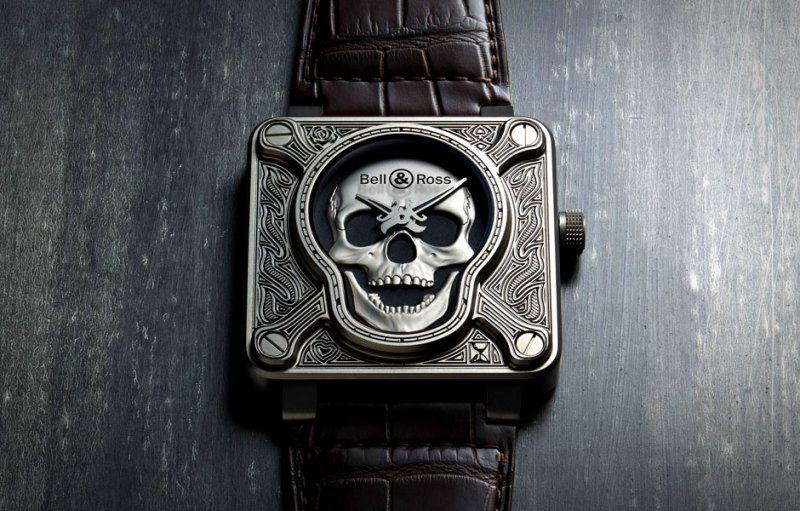 All watch enthusiasts want something unique on their wrist. Whether walking into the office, or walking into the local watering hole, no guy wants to see another dude with the same timepiece on. The custom timepiece market has been increasing in popularity for just this reason. Brands like Bamford Watch Co are taking classic timepieces from Rolex, Patek Philippe, and others, and making them unique to the wearer. Using coatings, colors, and even case engravings to do so, masterpieces are being made all around. Bell and Ross, being a fashion forward brand, has seen the trend and taken matters into their own hands creating their latest limited edition, the Burning Skull watch.
Related: Grand Seiko Limited Edition Series
Known for their 46mm square aviation themed timepiece, the BR-01, Bell and Ross has created numerous limited editions in this case, but none like the Burning Skull. Bell and Ross took their Airborne skull BR-01 and made it even more unique. Commemorating the WW2 parachutists who brought "Death from Above", this timepiece is hand engraved to resemble a tattoo. The skull, proudly worn by Norman parachutists, combined with the this unique tattoo style engraving, celebrates the art of military tattooing. Each case is hand engraved and the skull dial is made from stamped steel, similar to how a coin would be stamped. Below the dial lies a swiss BR calibre automatic movement. The watch is paired with a brown crocodile strap and pin buckle.
Case engraving like that of the Bell and Ross Burning Skull are becoming more popular with the custom watch crowd. Incredible man hours are necessary to complete these unique jobs. The outcome is spectacular and well worth the effort. Limited to only 500 pieces worldwide, the Burning Skull watch is hands down the most unique limited edition Bell and Ross has come out with. With an MSRP of $7,700, the price is not nearly as dramatic as this work of art.
Editors' Recommendations