Limited edition timepieces are starting to rub people the wrong way. Brands are pumping out limited editions with the only difference being a subtle change in the coloration of the dial for some of their most popular pieces. Consensus among collectors is resoundingly negative, since each limited edition quickly trumps the previous and devalues others. This holds true until a well-designed limited edition timepiece that can be celebrated hits the market.
IWC is a brand guilty of this limited edition production practice, though not as flagrantly as some, like Hublot or Audemars Piguet. It's latest limited edition, the IWC Pilot Spitfire Chronograph BFI (British Film Institute), takes the ever popular blue steel accents and makes it the piece's focal point.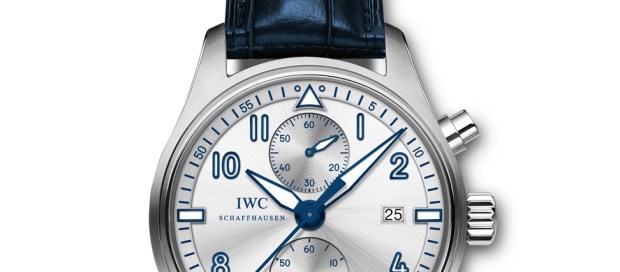 The IWC Spitfire is a classic IWC timepiece. This pilot chronograph is 43mm of stainless steel attached with a blue crocodile strap and folding buckle. But what really makes this limited edition is the dial. Made with argente silver, the dial is reminiscent of the Patek Philippe Regulator Annual Calendar. Radiant with different finishes, this dial is highlighted with blue steel accents. Luminescent Arabic numbers and hands make for a sharp and clean contrast. Blue steel is often used for hands, but IWC takes this to the next level by creating a dial fully adorned in blue. Under the dial sits an IWC in-house caliber automatic flyback chronograph movement. Capping this piece is a solid case-back engraved with the BFI logo.
Limited editions that look this good are disappointing—disappointing because a piece with this design should beregular production piece. Simple and classic with the right amount of detail, the BFI spitfire will be highly sought after. What is even more unfortunate is that it will only be sold in the UK. If you're reading this IWC, please anger your British consumers and make this a staple piece in your US distribution. We all love blue steel.