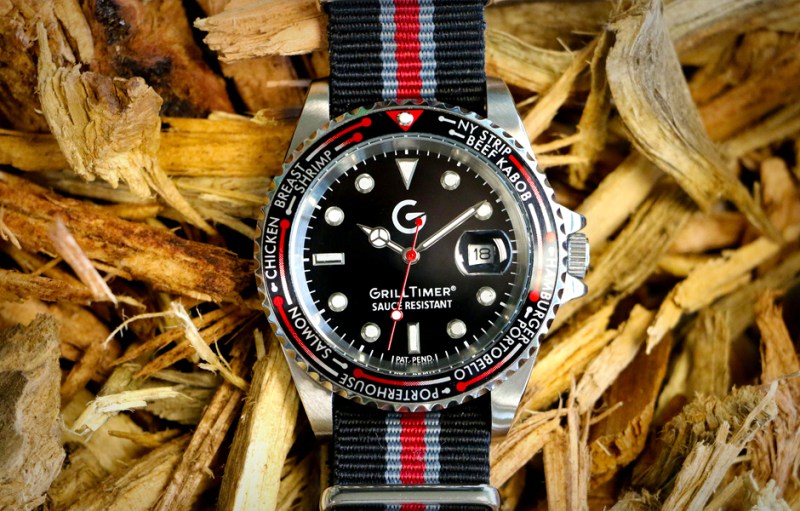 As Father's Day gifts go, the barbecue theme might trump all others.  Maybe its the spring weather of the holiday (as Hallmark planned), or perhaps that a grill might be the inanimate man's best friend.  How it took this long to connect the art of grilling and the art of watchmaking is beyond me.  2015 is a great year to be a father with the introduction of the The GrillTimer by Little Griddle.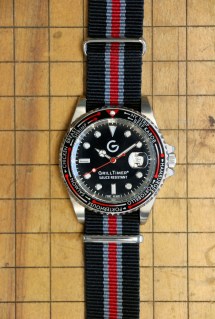 At 40mm, The GrillTimer has a submariner-esque design.  Water resistant and attached with a NATO strap, any grill master can be worry free while cooking.  The bezel is what makes this any watch enthusiasts choice for wearing while standing over the hot coals.  Utilizing the simple functionality of a divers bezel, The GrillTimer bezel displays some barbecue favorites with start and stop indicators.  Turn the bezel to align the start point of what you're grilling with the minute hand just as you would a divers bezel when starting a dive.  Follow the minute hand along the bezel as time elapses and your food cooks.  You'll know when its time to call everyone to the table just as a diver would know it's time to resurface.
This simple and ingenious patent pending design is also affordable. Currently still in its promotional and production phase, The GrillTimer can be reserved for summer delivery on Kickstarter.  Priced at only $50, this might be the grill gift of the year.
Editors' Recommendations