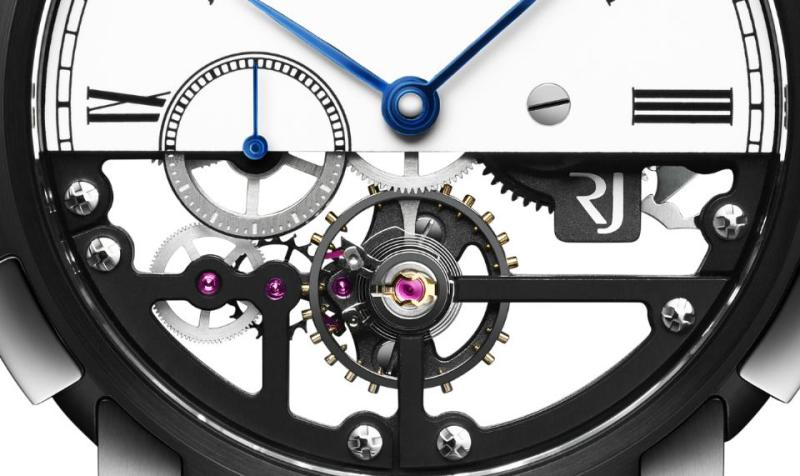 Collaborations are common in the watch world. Brands outside the realm of watches team up to create interesting timepieces to theme. Some interesting creations have been formed with the likes of sports teams, players, musical inspiration and automobile inspiration. A collaboration that is not very common but has been seen on a few occasion is the meeting of artist and watch brand. We have seen the 1/1 painted Hublot from Art Basel Miami, but not seen many limited editions available to the regular consumer. A brand that is frequently creating timepieces out of the box is ready to offer a piece with artist collaboration; The Romain Jerome Tattoo DNA by Xoil.
At 44mm in diameter, this brushed steel and black pvd case holds within it a very unique design. Almost as if the watch has been cut in half, this piece takes on multiple personalities. The top half, a white enamel dial with classic roman numerals, makes for a sharp contrast with the industrial bottom half. Exposed escapement and split subdial tell two sides to the story. There have been plenty of pieces with the bottom half of the watch exposed but there is something more to this Romain Jerome. With this finite line drawn across the piece, it is almost as if this piece is has been exposed for what it really is.
Adding another element to this piece is the part of the collaboration with Xoil. Each strap of this 25 piece limited edition is hand Tattooed by Xoil. None are the same, and each piece comes with a certificate signed by the artist making this feel like more than just the purchase of a timepiece, but a purchase of art. Priced at $24,500, this piece hopefully opens the door to more collaborations that I feel make for more interesting timepieces, ones with artists.