In the watch world, new brands emerge all the time. Whether its a name dug up out of the crates of watch history, or the namesake of a skilled watchmaker, new names are hitting watch dials with annual frequency. One of the newer arrivals on the scene is Ressence. In 2010, a forward thinking watchmaker by the name of Benoit Mintiens introduced three prototypes at Basel World in Geneva. These prototypes set out to redefine how a watch tells time. Losing traditional hands and a crown, Ressence has a minimalist design achieving the feel of a 42mm pebble on the wrist. Five years later, Ressence has introduced a number of eye catching editions. It's latest, the Ressence Type 1 Genesis, maintains a minimalist design and looks as if an alien being might have left it for us to find.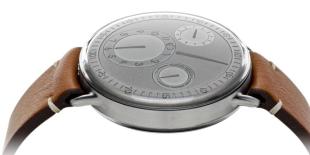 Milled from a single block of titanium, this piece is as raw as it looks. The dial is made up of four discs which rotate like planets in orbit. Galvanized hands and markers make for a natural contrast on the roughly milled dial made of convex nickel silver. This revolutionary new way of approaching the displaying of time is a first in a watch. All the discs rotate independently but in sync to tell accurate time all under a bubble sapphire crystal. Setting and winding of the watch is done on the underside of the case. With no crown, this piece does not discriminate against which hand you wear. Attached with a berenia calf strap, this piece has a complete natural look.
Industrial design has taken one of the most classic items in history, the wristwatch, and turned it into a whole new specimen. Minimalist design and finishing has been paired with innovative thinking and movement complication to create a simple masterpiece. With only five examples of this piece being produced, this is truly the definition of simplistic and rare. With a price tag of nearly $20,000, you should hope you stumble upon one the aliens accidentally left behind.