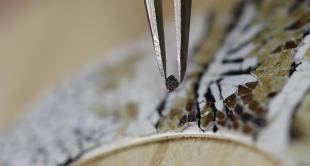 Watches are an art form. When art and watchmaking are mentioned in the same phrase, it typically refers to watch movements. The art of watchmaking can certainly refer to the amazing engineering and technological prowess necessary to produce extraordinary movements. Art in watchmaking can extend to more than just a watch movement as Jacquet Droz has proven once again. Mosaic dials have been used over the years but not like in their new Petite Heure Minute Mosaic Elephant.
The ancient art of eggshell mosaic is brought to watchmaking for the first time in a handcrafted scene of elephant migration. Quail eggshells are hand picked and placed to put together this mosaic scene to create an amazing dial for this 43mm rose gold timepiece. 2,000 pieces are hand sorted and then hand placed taking 200 hours to complete. This truly artisan timepiece will only be recreated to complete a limited edition series of eight pieces. The time on this piece is told with rose gold hands on a small black onyx dial. This work of art is attached to your wrist with a black crocodile strap and rose gold tang buckle. Turn the watch over and the rotor of this in-house automatic movement shows you the elephant marching on.
Jacquet Droz has a history of implementing some of the most of rare and unique dials in their timepieces. We have seen rare earth materials and hand painted enamel dials from them as well, but this eggshell mosaic truly tumps all. The price is unpublished but is certain to be very high; if you can get your hands on one.