Vertical integration is a goal in any industry. Branding is a key to success, but in an industry built on detail oriented enthusiasts, recognition may prove easier.
Vaucher is a movement house. The Sandoz family acquired all the pieces to the puzzle completing the formation of this manufacturing powerhouse in 2003. Designing and manufacturing movements and parts for brands throughout the industry, they have certain recognition. Located in Fleurier, Switzerland, Vaucher shares a home and all of its prowess with Parmigiani, its branding partner. It seems the time has come for more than just watch nerds to know the Vaucher name. It will now sit upon the dial of the new Vaucher brand and collection; Vaucher Private Label.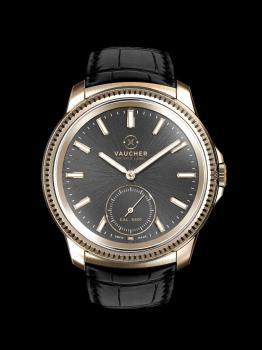 Vaucher Private Label offers the consumer the totality of a watch manufacturing region for their own timepiece personalization. They will offer the ability to create custom timepieces based off of a series of twenty-five pieces. All extremely well made and high end down to the screws, Vaucher Private Label will offer consumers the highest end customizable timepiece in the market. There are very few companies in the world that can offer such a service, and Vaucher Private Label will be the first to do so.
With the ability to create custom dials, case dimensions, and branding detail, a high end custom timepiece is within reach. It is fortuitous for Vaucher to realize this void in the market place. With the rising popularity of brands like Bamford Watch Dept, the demand for unique and custom timepieces is apparent. I am sure pricing will reflect the quality and custom attributes of a bespoke designed timepiece by Vaucher Private Label, but this watch world is small and it can be pricy to have Fleurier at your disposal.