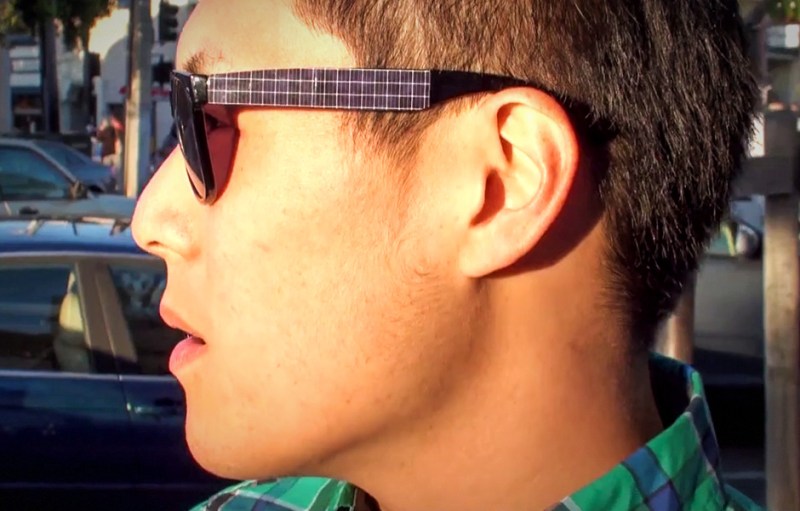 Behold the first-ever content series between Digital Trends and The Manual. The Bromance has begun. Since there are a plethora of brands out there melding style and technology, we thought we would take this opportunity to profile one item per week for the month of October, breaking them down and offering each of our unique takes on their tech and style components.
For the whole series, click here; for the most recent gazillion dollar idea that you forget to come up with, read on … 
The Manual:
Now here is one of those, "Why didn't I think of that?" products. Sayalee Kaluskar, an advertising wunderkind in India, had the genius idea of harnessing solar power through sunglasses to charge a phone. Google Glass should really take note because Sayalee's glasses don't make you look like an absolute idiot. Wisely, she is working with Ray-Ban on this concept.
The idea is simple: The arms of the standard-issue (and classic) Ray Ban Wayfarer have been hacked to carry photovoltaic cells wired to a battery hidden within the plastic. The cells charge the battery while you're wearing your glasses in the sun, and when you head inside the arms pop off to reveal a microUSB or Lightening connector that plug into your phone and give its battery a shot of juice. Brilliant!
We are thrilled that this wonderful woman is alive and creating remarkable, energy-saving devices whilst keeping style in mind. But we're more thrilled that she's made sunglasses even less likely to be worn indoors, because that is as lame as it gets. The 80s are over people.
Digital Trends:
We couldn't agree more with The Manual, except for the part about the 80s being over. We don't care what you say, The Manual! Our "Where's The Beef?" Tshirt is cool! It was originally cool, then it wasn't, but now it's retro cool again. We know, because we asked Brooklyn.
Wearable tech may be all the rage, but as long as the manufactures of this stuff think that a postmodern cyborg aesthetic is wearable by anyone other than Google's first few thousand Glassholes, it's not going to get very far. When it comes to fashion and tech, the fashion has to come first because, frankly, the tech can't be left to its own devices when comes to fashion.
All the bells and whistles in the world won't amount anything more than bells and whistles if they're hanging off something no one in their right mind would be caught wearing. Fortunately, everyone looks cool in Wayfarers.
Editors' Recommendations