For NBA players, the summer months are a time to regroup from the grueling 82-game season. Players across the league hit the gym, their preferred pick-up games as well as the film room to try and figure out how to improve upon their performance from the year before.
Between those endeavors and spending time with their families, that is a loaded schedule for any NBA player—but not Russell Westbrook. After making a deep run in the NBA Playoffs with the Oklahoma City Thunder, this summer, the superstar guard has been busy bringing his unique fashion sense to life.
Always the trend-setter, the past two months have seen Westbrook launch his own sunglass brand, Westbrook Frames, collaborate with Barney's to curate his own collection, Westbrook XO, and, most recently, partner with classic watch-makers, Zenith, to create the limited edition Pilot Type 20 Annual Calendar. Like any young entrepreneur, Westbrook is concerned with diversity and his own personal vision.
Westbrook Frames were created in partnership with Selima Optique and feature ten unisex frames. A Long Beach, California native and UCLA alum, Westbrook paid tribute to his L.A. upbringing by naming each frame after a neighborhood of his beloved hometown. Sunglasses range from $95 to $145 and can simply be purchased on the Westbrook Frames store.
The collection with Barney's meanwhile has seen Westbrook curate more than 60 pieces from labels such as Nike Jordan, Del Toro, Globe-Trotter and Marcelo Buron County of Milan. The result is an easily-to-shop look book of Russell's distinctive style that any NBA fan will easily recognize from his post-game press conferences or swaggering arena entrances. Just last week, at the 2014 Kids Choice Sports awards, Westbrook was rocking his XO Barney's New York X Jordan Side-Zip Elephant-Print tee.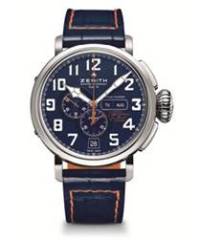 His work with Zenith, however, is perhaps the most unique of all. To help with the design process, Westbrook traveled to Zenith's manufacture in Le Locle, Switzerland. Concealed in a 48 mm by 15.80 mm steel case, the limited-edition watch features a blue dial with orange accents as well as a blue alligator strap with orange thread and protective rubber lining to match the colors of Westbrook's Oklahoma City Thunder. The back of the watch has a screwed-down plate with Russell's likeness. And when we say this watch is limited-edition, we mean it—only five models have been created.
Now that's what we call a busy offseason! Sure, Westbrook may have the advantage of being a world famous basketball player, but his devotion to his personal style and diverse interests should be an inspiration to any of us chasing after our passions.
Editors' Recommendations