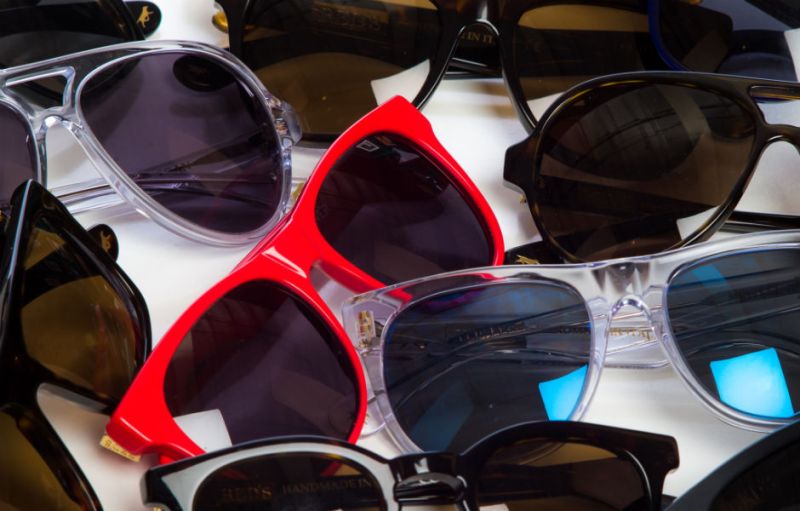 When it comes to finding the perfect pair of sunglasses, it's difficult to find a pair that fuses style, American ingenuity and quality Italian design. Brian Francis and Gene Whitner Milner III realized there was a gap in this sector of the sunglasses market they decided to do something about it and create their own line of sunglasses that are conceived in the United States and handmade in Italy with Carl Zeiss polarized lenses and Italian acetate frames at the same factory where Tom Fort sunglasses are produced. Unfortunately Milner passed away, so Francis rebranded the company as Red's Outfitters as homage to Milner, and a portion of the profits goes to Shallow Water Blackout Prevention in his honor. Celebrities like Gary Clark Jr., Adrien Grenier and the lovely ladies of the Sports Illustrated Swimsuit Issue have caught on, sporting styles like the The Mavericks, a classic aviator, and the Bridges Especiale, a dark brown tortoise shell wayfarer. With a number of styles and cool colors to choose from, a pair of Red's Outfitters sunglasses should be a staple in every man's wardrobe. The Manual recently talked to Francis about Red's Outfitters, his inspiration for the designs and why the brand speaks to people who have "an appreciation for quality, style and authenticity."
What were you doing before Red's Outfitters?
I was doing management consulting. I focused on marketing strategy for Fortune 500 brands like Eli Lilly, American Red Cross, Clorox, Chick-fil-A, and Boeing. My Father worked in fashion his entire life so I garnered my style and knowledge of the industry through him. Management consulting taught me how to harness that knowledge from my family and apply traditional and non-traditional marketing strategies to grow the business.
Where were you when you came up with the idea for Red's Outfitters?
Well, we came up with the idea to do sunglasses while I was in Sea Island, Georgia with my original business partner and best buddy. We were looking for sunglasses that spoke to us in terms of style and quality but found a lot of the same brands that didn't really do it for us. We wanted to be a lifestyle brand that just happened to focus on really high quality sunglasses.
When my original partner passed away, I changed the branding in honor of him to "Red's". Red was the name of his yellow Labrador that was always notoriously by Whitner's side. The loss of our loved one really rocked out world but we were able to find a way to honor him and keep his legacy alive.
What inspired the styles?
It's our rendition of American heritage, infusing it with Italian craftsmanship, and combining it with our lifestyles. Art, music, fashion, food, and travel. All the elements of life that one could consider, "the finer things in life." The styles are honestly a collection of memories. I have two partners in the business and they both have totally different styles and live totally different lifestyles, but they believe in the company and represent it well. Everything represents a look or feel, or style that spoke to us personally. I have always been a big fan of infusing timeless style with my own personal flair—that's what we've achieved with our frames. They can be styled to fit any lifestyle or personal preference. Sometimes I'll wear a cobalt blue pair to accent a monochromatic blue look. Other times I will wear simple tortoise shell to tone things down and being a little less conspicuous.
How does Italian manufacturing make for a better pair of sunglasses?
The difference with our shades is that they are hand crafted out of cellulose plant based acetates. Each frame is cut by hand and assembled by hand. Our lenses are the best in the world and made by the inventor of the simple microscope, Carl Zeiss. The entire process and every component of our sunglasses is 100% made in Italy. Very rare in our industry.
Also, it's not only about the Italian manufacturing, it's about the resources that are Italian made that we proudly use and the way we apply it to our glasses. There are plenty of brands that make their glasses in Italy, but they are mass manufactured the same way they are in the USA, China, Japan, etc. It's essentially artisanal craftsmanship versus industrial.
Each of our acetate frames is also eco-friendly, biodegradable, and sustainable which is another cool element of the value.
 Describe the person who you envision wearing Red's Outfitters sunglasses.
The person wearing Red's is one that has an appreciation for quality, style and authenticity. Every pair can be tailored to fit your personal taste. The kind of people that appreciate individuality and personal style. We've seen success across the country with all walks of life. We have guys that ride motorcycles and are covered in full sleeves (tattoos) that love the brand while also having the designated hitter for the New York Yankees wearing them too. It's pretty cool.
What celebrities have worn Red's Outfitters?
There are actually quite a lot. We were chosen by Sports Illustrated Swimsuit Edition as the favorite sunglasses by all the girls so all 40 of the girls from this past edition wear them. Gigi Hadid, Genevieve, and one of our favorite up and comers, Valerie Van Der Graaf wear the sunglasses and we love it. Gary Clarke Jr. wears them, Waka Flaka Flame, Adrien Grenier, Justin Bieber has a few pairs, and a lot of cool up and coming talent, like Becca Tobin from Glee. A lot of athletes and tons of visual artists because we always do events at Art Basel in Miami and get to meet some cool people.
 Why did you decide to donate a portion of your profit to Shallow Water Blackout Prevention?
Well, it's in the fiber of our company. The foundation was started by my original partners mother, and has since been featured on Sanjay Gupta and tons of other media outlets. As we grow, it's going to be one of our biggest marketing initiatives. We really plan on doing more events and functions to raise money and awareness.
What's next for you guys?
We are going to continue to make killer sunglasses and perfect the art of making the perfect pair. We've only been making shades for almost two years, the quality is going to continue to improve every season. We've got some awesome collaborations in the works, and have some pretty cool events coming up for New York Fashion Week.
For more information on Red's Outfitters, visit redsoutfitters.com.
Editors' Recommendations