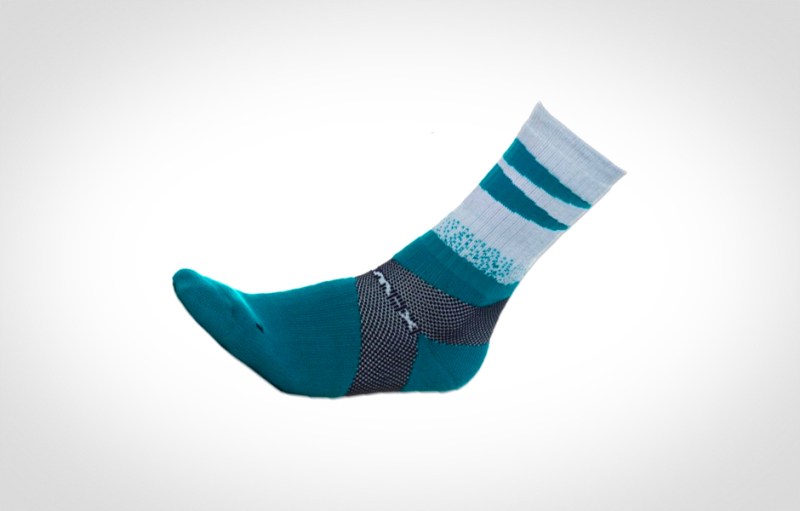 In case you haven't noticed, the U.S. is fighting through one of the worst winters in nearly twenty years. That means people all over the country are combating the urge to stay in their homes and apartments as much as possible, and are still trying to get some exercise in to fight off extra cold weather weight.
One of our go-to winter activities is playing indoor basketball. When you are trudging through frigid winds and leftover dirty snow, by the time you get to the YMCA or neighborhood gym, your body is stiffer than you'd like it to be—especially your ankles. And very often that can result in nasty twists, rolls and sprains.
Luckily, cutting edge basketball apparel brand, POINT 3, has developed their X-Wrap socks, the world's first basketball socks that provide a base layer of ankle support. X-Wrap socks help prevent needless and nagging ankle injuries that can put an extra strain when you're getting around in the next polar vortex.
We've already written about POINT 3's revolutionary The World's Best Basketball Shorts featuring DRYV Moisture Control panels, and the X-Wrap socks are an even more ingenious addition to athletic apparel. The key to these socks is that they are made with compression bands that stretch around your ankle and arch for support that standard socks just don't have. Also, the 75% wicking polyester fabric keeps your feet dry for even the most epic pick-up sessions. And extra thick cushioning provides additional impact resistance and comfort so there is no lingering soreness in the subzero temperatures once you leave the gym.
In addition to the 75% wicking polyester, the X-Wrap sock is also made from a 23% nylon and 2% spandex blend, which means that each pair forms tightly around the foot for an anatomically correct left/right fit. But while these socks provide the highest level of support on the market, they are still not meant to replace any ankle brace or other support you may require for a game of pick-up.
Just because most of the world is a frozen tundra, doesn't mean that you can't fit in a little indoor run. And if you're going to play ball, why not treat yourself to the best socks on the market. You'll thank us once the game is over.
Editors' Recommendations