On Your Feet is all about that new shoe feeling- from the first time you open the box until they're worn into the ground. Sometimes we'll sift through the constant Air Jordan releases to bring you the gems other people will leave on the shelves, and sometimes we'll slide on reclaimed leather loafers from Prague, but we'll always focus on comfortable shoes with appealing and creative aesthetic. So lace up your new kicks and stand on the precipice of adventure, where will we go together?
It's always refreshing when a shoe brand ditches the distributors and takes matters into their own hands. Drish Shoe Limited has been crafting fine footwear for 25 years, bringing classic, high-end materials together with modern construction techniques for a shoe that really is the best of both worlds. The newest evolution of the brand, Paul Drish, is seeking to redefine the way men buy and look at shoes, with an eye toward the latest and greatest in design and aesthetic.
For co-founder Arveena Ahluwalia, it's about turning her uncle Paul's classic footwear brand into a stylish and unique shoemaker for professionals. Their shoes challenge the styles that many men find to be stale but necessary, pointing them toward more confident and updated silhouettes and colors. From casual loafers adorned in swirling, mysterious purple velvet, to office friendly brogues in slate blue suede, and all the way up to calf leather boots with lamb fur lining, they have something for every hard worker that won't break the bank.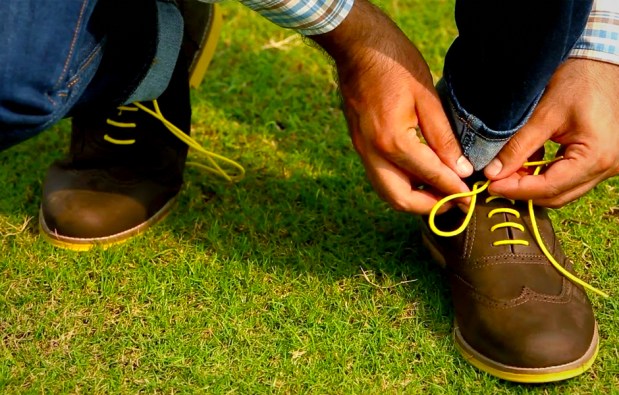 Not only does direct to customer distribution help keep prices low, but it also affords Paul Drish the opportunity to provide more amenities. Each pair comes packaged in a sturdy, reusable shoebox, no flimsy cardboard here, and the shoes are shipped in a luxurious dust bag for protection. Inside, you'll find a leather shoe horn so they keep their shape when you put them on, and extra padded insoles if you need a little extra support.
While Paul Drish keeps costs low by doing most of their business from their own site, they also set up a loft in Tribeca as an appointment-only shopping experience for local customers. They have shelves of samples of the different styles that you can try on, so you know the pair you order will be the perfect fit.This isn't your mall foot locker though, here they have great music, personal shopping attention, and scotch to sip while browsing, some of our favorite activities together in one place.
You can buy Paul Drish shoes only from their website, orby appointment in their Tribeca loft. 
Editors' Recommendations